Betty L. Wheat
Dallas, TX, 1929 - 2010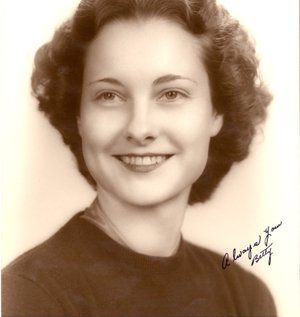 Betty L. Wheat, of Dallas, formerly of Little Rock passed away on July 22, 2010. Born on July 15, 1929 to Lonnie Estes and Annie Mae Lancaster in England, Ark. She is preceded in death by her parents, brothers, Carl and Lonnie Lancaster and sisters, Claudia Tipton and Lucille Ryals, all of Little Rock as well as her step son, Larry Wheat and her husband of 35 years, Homer. She graduated from Joe T. Robinson High School, married John J. Brunn, lived in Sacramento, CA where she had her daughter and shortly after became a widow. Moving back to Little Rock she worked as a secretary for the Department of Education and also attended UALR. She married long time acquaintance, Homer Wheat. They were both faithful to their Lord and church in attending 1st Baptist of Little Rock. After many years as a secretary for the Veteran's Administration and upon retirement she enjoyed volunteering at St. Vincent's Hospital. Following her husband Homer's passing, she moved to be near her daughter and son-in-law, Pam and Terry Iliff of Dallas, Texas and there joined Lakeside Baptist Church.
She is survived by her daughter and son-in-law, step-daughter-in-law Jacquie, step-grandsons, Larry and wife Cristy and Lance Wheat, also by step-great-grandchildren and many beloved nieces and nephews.
She always maintained her sense of humor and loving spirit, which was shown through her compassion to family and friends. Affectionately and appropriately nicknamed by close friend, Future Naylor as "Sweet Wheat". Her charitable attitude was evident in fiving to such organizations as American Bible Society, various missions and veterans groups. In lieu of flowers, donations may be made to American Bible Society, 1st Baptist Church of Little Rock or a charity of your choosing. A loving spirit and the best mam anyone could ever wish for. Until we meet again in Heaven…
Funeral services will be 10 a.m., Wednesday, July 28, 2010 at Griffin Leggett Healey and Roth Funeral Home 5800 W. 12th St. Little Rock 501-661-9111 with Dr. John Wright officiating. Interment will follow in Rest Hills Memorial Park. Visitation will be at Griffin Leggett Healey and Roth on Tuesday evening from 6 until 8 p.m. Please sign her online guestbook at griffinleggetthealeyroth.com.
Published July 27, 2010
OBITUARY SUBMITTED BY:
Griffin Leggett Healey & Roth
5800 West 12th Street, Little Rock, AR
Phone: 501-661-9111