Dr. Roger Haley Howard
Foley, AL, 1920 - 2010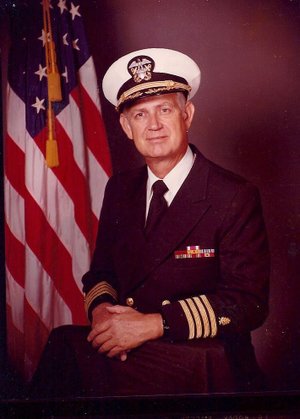 Dr. Roger Haley Howard, age 90, passed away at his home in Foley, Alabama, on May 28, 2010. He was born on January 28, 1920 near Harrisburg, Arkansas, the son of John Robert Howard and Madge Haley Howard. He graduated from Little Rock Senior High School in 1938 and from Little Rock Junior College, where he was student council president, in 1947. He met his sweetheart and eternal companion Kathleen Rose Trotter while they were both employed in the Little Rock office of Dun & Bradstreet. Their civil marriage was solemnized at The First Lutheran Church of Little Rock on April 6, 1942, and they were united for eternity in the LDS Salt Lake Temple on December 14, 1959. He enlisted in the United States Navy just prior to the beginning of World War II and rose during the war to the rank of Chief Yeoman, having survived the sinking of two ships. Following graduation from Northwestern University Dental School in 1951, he entered private dental practice in Arkansas. Returning to the Navy he served in the Dental Corps and retired as a Captain in 1977, serving a total of 33 years and having earned numerous medals and commendations. Among a wide range of duty assignments he served as Head of the Professional Branch, Dental Division, Bureau of Medicine and Surgery and Commanding Officer, Naval Dental Clinic, NAS Norfolk, Virginia. He was a published author, a Diplomate of the American College of Dentists, and a member of the Council of Deans of the American Association of Dental Schools. An active member of the Church of Jesus Christ of Latter-day Saints, he served in numerous callings, twice as bishop, and as a full time missionary with Kathleen in Kenya, East Africa.
He is survived by two sons, Roger H. Howard Jr. and his wife Kathleen, of Orem, Utah; and Peter J.C. Howard and his wife Maribeth, of Gulf Shores, Alabama; nine grandchildren and four great-grandchildren.
Funeral services will be held at Roller-Citizens Funeral Home, 508 East Plaza Street, West Helena, Arkansas 72390, at 11 a.m. on Friday, June 4, 2010. Viewing and visitation with the family will be one hour prior to funeral services. Burial will be in the family plot, Maple Hill Cemetery, Helena, Arkansas. Services directed by Roller-Citizens Funeral Home, West Helena, (870) 572-2571. Online guest book www.rollerfuneralhomes.com. .
Published June 2, 2010
OBITUARY SUBMITTED BY:
Roller-Citizens / West Helena
508 E. Plaza St., P.O. Box 2427, West Helena, AR
Phone: 870-572-2571