Charles Wade
Little Rock, AR, 1920 - 2010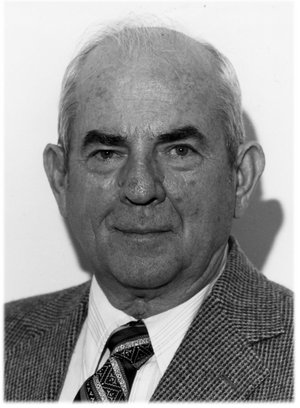 Charles E. "Monk" Wade, retired Executive Director of the Arkansas State Golf Association (ASGA) and long-time banker at Worthen Bank & Trust Company, died Sunday, June 20, at the age of 90. Monk was born in Little Rock and earned his almost life-long nickname at an early age, being referred to as "that little monkey" by his grandfather for his love of climbing trees. He graduated from Central High in 1938, after lettering on the Tiger golf team and playing a 1937 state tournament match against future Country Club of Little Rock head professional Junior Lewis. After a brief stint at Fones Bros. hardware, Monk began his banking career at Worthen in June, 1940, in a back-office clerical role. He retired 46 years later, in March, 1986, as a Senior Vice President. At the time of his retirement, he was referred to as the "dean of Little Rock bankers" in an Arkansas Democrat article, which noted that his career spanned from the era of adding machines and manual ledgers to that of desktop computers and ATM's. Monk spent almost six years in the Army, including the entire period from Pearl Harbor to V-J Day. He was drafted in 1940, and served in the Coast Artillery in California for the entire war, rising to the rank of Sergeant. The major hearing challenges he faced during his later years could be traced in large part to the many hours he spent on artillery ranges during the war. After returning to Little Rock and rejoining Worthen in 1946, Monk played on the bank's highly competitive men's fast-pitch softball teams, which frequently competed in major national tournaments and won at least one national championship in the early 50's. Monk's career at Worthen included a variety of pioneer management roles in the 1960's. He led the bank's Credit Card and Marketing Departments at their earliest stages of development, and oversaw its rapidly expanding group of branch offices. From the early '70's through the end of his career in 1986, Worthen's executive management team recognized Monk's natural talent for sales and public relations by making business development his primary duty. For countless Worthen customers of that era, including many of its largest, he was the face of the bank. His love for developing new business led him to continue to pursue new customers for the bank for many years after his formal retirement. In 1975, Monk's talent for public relations and his lifelong love of golf led to his "second calling" – the role of Executive Director of the ASGA, which at that time was a part-time position that Worthen CEO Ed Penick urged Monk to take on as a way to meet more potential bank customers. Legend has it that at the outset of Monk's tenure with the ASGA, all of its records were delivered to his home in a shoe box. From that humble beginning, in a home office in their son's former bedroom, the ASGA grew under Monk's 15-year leadership to one of the nation's best state golf associations, one which today has several full-time paid staff members, a 3000-square foot office, and a membership of thousands of Arkansas golfers. In 1979, Monk started the event that would become his legacy in Arkansas golf – the ASGA Monk Wade Father-Son Championship. Renamed in Monk's honor by the ASGA board in 2001, the tournament provides as many as 500 Arkansas fathers and sons each year with two days of competitive golf and a popular forum for fellowship with other golfers from throughout the state. Beginning in 2001, the ASGA board also decided that the Monk Wade Father & Son Championship would begin serving as a platform for raising awareness of the importance of early detection and diagnosis of prostate cancer. With the support of the ASGA board, Monk agreed to step forward and publicly acknowledge his own battle against prostate cancer at a time when public discussion of the disease was still uncommon. His courage in doing so was recognized for several years by the Arkansas Prostate Cancer Foundation at its annual fundraising event, "Boys and Their Toys." Monk was elected to the ASGA's Arkansas Golf Hall of Fame in 1996. His dedication to promoting scholarship among the ASGA's junior golfers was recognized in 2005 with the naming of one of the classrooms at the First Tee of Central Arkansas's Jack Stephens Golf Academy in his honor. A member of Pleasant Valley Country Club since it was Riverdale Country Club in 1965, Monk was also honored in 2002 by being named an honorary member for life by the club's Board of Governors. In recent years, as he endured increasing health challenges and the loss of Vera, his wife of 56 years, Monk often shared that the most important things in a man's life should be faith in Christ, devotion to his family, and dedication to his job – in that order. He became a Christian in 1949 and had been a member of Little Rock's First Baptist Church since that time. He often told his family and caregivers that he was ready to join God and to be reunited with Vera in Heaven. Those who loved him can rejoice that this reunion took place this Sunday morning.
Monk is survived by his son, Steve Wade, and his wife Ginger, of Little Rock, and by his grandchildren, Elizabeth Ann "E.A." Wade and Jim Wade. He is also survived by his brother's widow, Pearl Wade, and several nieces and nephews. He was predeceased by his beloved wife Vera Croach Wade, his parents, his three brothers, and his sister.
A private burial service for the family will be held Wednesday morning, June 23. The family will receive visitors from 6 to 9 p.m., Wednesday evening at Roller-Chenal Funeral Home on Chenal Parkway. A public service in celebration of his life will be held at Little Rock's First Baptist Church, at Pleasant Valley Drive and Rodney Parham, on Thursday, June 24, at 10 a.m.,
The family requests that in lieu of flowers, memorials may be made to the ASGA Scholarship Fund, c/o Arkansas State Golf Association, Golf House, P.O. Box 30250, Little Rock, Ark. 72260, the First Tee of Central Arkansas, 1 First Tee Way, Little Rock, Ark. 72204, or Little Rock's First Baptist Church, 62 Pleasant Valley Drive, Little Rock, Ark. 72212.
On behalf of Monk, his family extends its heartfelt thanks to the caregivers and staff of Pleasant Hills Retirement Center's Residential Care Neighborhood, where Monk lived from 2006 until recent weeks, the entire care team at the Baptist Health main campus, and the caregivers of Baptist Health's Parkway Health Center and Baptist Health Hospice. Online guestbook: www.rollerfuneralhomes.com/chenal.
Published June 23, 2010
OBITUARY SUBMITTED BY:
Roller-Chenal Funeral Home
13801 Chenal Parkway, Little Rock, AR
Phone: 501-224-8300
http://www.rollerfuneralhomes.com/chenal