Benson Allen Byrd
Monticello, AR, 1916 - 2010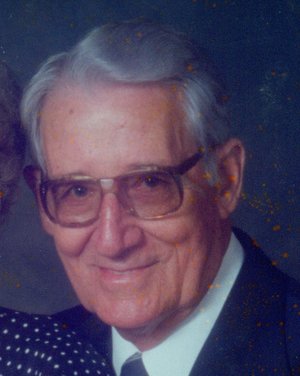 Benson Allen Byrd, age 94 of Monticello passed away Tuesday, November 16, 2010, at the Drew Memorial Hospital in Monticello. Born November 7, 1916, in Columbia County, Ark., he was the son of the late Oscar Lee Byrd and Maggie McMahon Byrd. Mr. Byrd was brought to the CCC Camp in Monticello in the mid 1930's and has lived here ever since. He was a retired salesman and distributor for Wonder Snack Foods with 25 years of service and a member of the Pauline Missionary Baptist Church. Mr. Byrd served on the Monticello City Council for 22 years, was an avid hunter and fisherman, and was an avid Monticello Billie supporter where he received the Billie Booster of the Year award.
He was preceded in death by his first wife, Martha Dodson Byrd; his daughter, Barbara Haisty; two brothers and one sister. Survivors include his wife, Geneva Burton Byrd of Monticello; two sons, Don Byrd of Clarksville and Jerry Akin of Monticello; one daughter, Evelyn Jeffers of Hampton; one sister, Velma Watkins of Dallas, Texas; seven grandchildren, Vicki Tiner, LeAnne Colvin, Jon Byrd, Laura Strickland, Jason Jeffers, Melissa Johnston and Carrie Williamson; eight great-grandchildren, Ashley Tiner, Hanna Colvin, Katie & Chloe Strickland, Ella Williams and Andrew, Anna Kay & Brooks Johnston; and numerous nieces, nephews and cousins.
Funeral Services will be 1:30 p.m., Friday, November 19, 2010, at the Stephenson-Dearman Funeral Chapel by Rev. Chad Graves. Burial will be in Oakland Cemetery in Monticello by Stephenson-Dearman Funeral Home. Family visitation will be from 6-8 p.m., Thursday evening at the funeral home. Memorials may be made to the Alzheimers Association. The family will be gathering at the home of Jerry and Belinda Akin at 1967 Hwy. 35 West. Online guestbook at www.stephensondearman.com.
Published November 18, 2010
OBITUARY SUBMITTED BY:
Stephenson-Dearman
P O Box 506, Monticello, AR
Find it at: Hwy 425 N.
E-mail: sdearman@ccc-cable.net
Phone: 870-367-2451
http://www.stephensondearman.com/