Colonel Gerrit R Vande Lune
Maumelle, AR, 1916 - 2010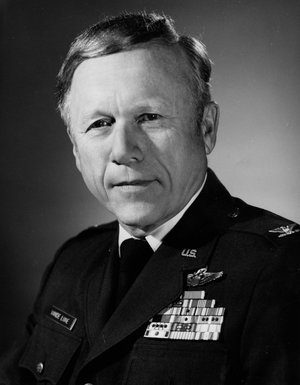 Colonel Gerrit R. Vande Lune (USAF Retired), 94, of Maumelle was born April 23, 1916 in Lincoln, Nebraska to the late John G. and Dena Broekstra Vande Lune. He passed away on November 12th, 2010 in Little Rock, Arkansas. Col. Vande Lune was a decorated service man who retired from the United States Air Force with 32 years as a pilot having served in WWll, Korea and Vietnam. He was the overseer of the Quality Control shop for the Air Force in Marietta, Georgia. During his time there he was involved in the conception and finalization of the first C-141 test flight models. After a three year tour at Andrews Air Force Base he was picked up as an Aircraft commander in the C 130's before serving in Vietnam where he served 18 months ancillary duty in Wing Maintenance. His next assignment was at the Pentagon where he served as Deputy Chief of the Industrial Resources Division in the office of the Air Force Deputy Chief of Staff for Research & Development where he received his Eagle; from there he was assigned as the Commander of the Van Nuys Contract Management District where he served until his retirement.
He is survived by his children Karen Dedrick and her husband Dick of Medford, Oregon, Virginia Weber of Sherwood, Arkansas, Sally Ederington of Little Rock, Arkansas and Bill Ederington and his wife Melody of Phoenix, Arizona, his grandchildren, Rick Dedrick and his wife Janis, Tim Dedrick and his wife Samantha, Brian Weber and his wife Shannon, Kimberley Weber and ten great grandchildren. He is also survived by two sisters Dorothy and Ruth. He is preceded in death by his wife of 29 years Isabella Ederington Vande Lune and one brother and one sister.
Funeral services will be held at 2 p.m. on Friday, November 19th, 2010 in the Chapel of Griffin Leggett Rest Hills Funeral Home at 7724 Landers Road in North Little Rock with visitation on Thursday, November 18th, 2010 from 6-8 p.m. at the funeral home. (501.835.3515) Please visit www.griffinleggettresthills.com to view the online tribute.
Published November 18, 2010
OBITUARY SUBMITTED BY:
Griffin Leggett — Rest Hills
7724 Landers Road, North Little Rock, AR
Phone: 501-835-3515
http://www.griffinleggettresthills.com/