Fred V. Mills Jr.
Hot Springs Village, AR, 1925 - 2010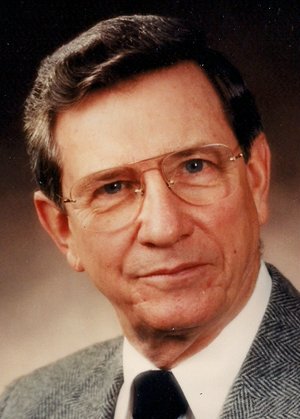 Fred V. Mills Jr., 85, of Hot Springs Village, AR passed away on Tuesday September 14, 2010 peacefully at home after a long illness, Parkinson's disease. He was born on February 5, 1925 in Port Huron, MI to the late Fred V. and Minnie Louise (Miller) Mills. Mr. Mills enlisted in the Army on April 2, 1943 and served 3 years on Guadacanal, New Guinea and the Southern Philippines. Fred was honorably discharged on December 10, 1945 with the Good Conduct Medal, Asiatic Pacific Theater Ribbon with two Bronze Battle Stars; Philippine Liberation Ribbon with one Bronze Battle Star, four overseas Bars; Victory Medal and a Good Conduct Medal. Following his military service, Fred was selected by the U.S. Postal Service for education training and development as a Postal Inspector. After three years, Fred was appointed to the position of Postal Inspector, assigned to New York Division, subsequently he was promoted to Director of Special Investigations in the Bureau of the Chief Postal Inspector in Washington D.C. then to Inspector-in-Charge, Kansas City Division and later to Inspector-in-Charge of the Detroit Division. At retirement Fred moved to Hot Springs Village, Ark. in 1977. He served on the Board of Directors of the Property Owners Association for six years, one year as Board President. He served as Chairman of the Building Committee responsible for the development, Design, Financing and the Construction of the Woodlands Auditorium and the Ouachita Building in the Ponce de Leon Center. He was also involved in Leadership Position on the POA Architectural Committee, Finance Committee, Village Census Committee, Village Employees Benefit Fund, Village Players, Hagen Cancer Golf Tournament, Village Shrine Club, Friends of HSV and The Village 30 year History Committee. Fred was a member of The Village United Methodist Church, where he served on the Board of Trustees. In 2003 Fred served as a member of the Village Regions Bank Advisory Board.
Fred is survived by his wife Dorothy Finlay Mills of Hot Springs Village, Ark., two sons; David Mills and (Connie) of Hot Springs Village, Ark., Douglas Mills and (Lynn) of Livonia, Mich., three stepsons; Joe Maitre and (Alice), David Maitre and (Cindy) and Ted Hunter and (Angela) all of Ontario, Canada; two brothers; Ellsworth and Jessie Dutton Mills and Mason Mills all of Prot Huron, Mich.; three brothers-in-law; Jack Logan and (Joan) of Bloomington, Ind., Lyle Finlay and (Ethel) and Gerald Finlay and (Joan) all of Ontario, Canada; five grandchildren, David of Nashville, Tenn., Jennifer, Rachel, Lauren and Max Mills all of Livonia, Mich.; 10 step-grandchildren and 11 step-great-grandchildren and many nieces and nephews. Fred is preceded in death by his first wife of 47 years, Barbara Logan Mills, one brother, Wilbur E. Mills, two sisters-in-law, Gertrude Rugger Mills and Helen Jones Mills of Port Huron, Mich.
Visitation will be on Friday form 5-7 p.m. at CedarVale Funeral Home in Hot Springs Village, Ark. Funeral Service will be on Sunday, Sept. 19, 2010 at 2 p.m. at Village United Methodist Church in Hot Springs Village, Ark. In lieu of flowers a donation may be made in honor of Fred to the Hot Springs Village Shrine Club, P.O. Box 8537, Hot Springs Village, Ark. 71909. Arrangements under the direction of CedarVale Funeral Home of Hot Springs Village, Ark. 501-922-6100.
Published September 17, 2010
OBITUARY SUBMITTED BY:
CedarVale Funeral Home
200 Minorca Rd, Hot Springs Village, AR
Phone: 501-922-6100