Sharon Diana White Gardner
Atlanta, GA, 1953 - 2011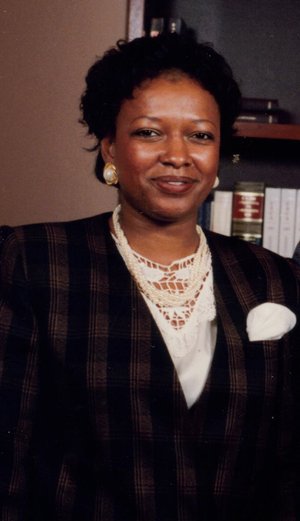 Sharon Diana White Gardner, 58, of Atlanta, Ga., formerly of Little Rock, Arkansas made her transition into the arms of her Heavenly Father on Saturday, December 10, 2011, surrounded by her loving family. She was born on December 7, 1953, to the union of the late Robert D. and Tishialu P. White, being the third of six children, three sisters and two brothers.
She was christened as a baby at Bethel A.M.E. Church in Little Rock, Arkansas and was born again. She was married to the late Alfred Gardner Jr., and to this union two children were born, LaTonja Gardner (James) Land, (Little Rock, Ark.) and Alfreda L. Gardner (Atlanta, Ga.).
She attended school in the Little Rock public school system, and attended the University of Arkansas at Little Rock. She worked for the State of Arkansas before she came to Atlanta, Ga. in 1989 and worked at the Presidential Jimmy Carter Center for many years, and then at Emory University, in the Rollins School of Public Health. She later came to work in the Bursar's Office at Georgia Institute of Technology where she worked for 13 years until losing her courageous battle with cancer.
In addition to her two daughters, she also leaves to cherish her memory a very Special Friend, Jackie Lewis Smith, four grandchildren, Braylon (Natasha) Donley, (Jacksonville, N.C.), Brandon Phillips, Terrjie Donley (Little Rock, Ark.), and Christopher Gardner, her three sisters, Devonalu (Robert) Perry (Fort Washington, Md., Belinda (Bertram) Butler (Little Rock, Ark.), and Phyllis (Earl) Battle (Dallas, Texas) and two brothers Robert White Jr., (Little Rock, Ark.), John F. White (Little Rock, Ark.).
The family will receive visitors at Dubisson Funeral Home, 1851 Marshall St., Little Rock, Ark.; Friday, Dec. 16, 2011 from 6 -7 p.m. The Homegoing Celebration will be held at Bethel AME Church, Little Rock, Ark., Saturday, Dec. 17, 2011 at 11 a.m. and the Interment will be at Oakland Cemetery in Little Rock, Ark. Please send all condolences to Dubisson Funeral Home, LR, Ark.
Published December 13, 2011