Norma B. Young
Searcy, AR, 1911 - 2012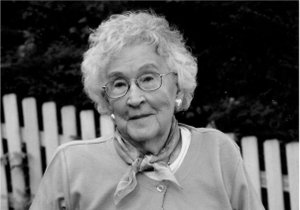 Norma B. Young, an Arkansas Poultry Icon, is not a household name, inside or outside of the poultry business, but her culinary contributions changed the industry and her creations have nourished millions of kids around the world, through their early picky-eating years...and long thereafter.
Mrs. Young, born Norma Beatrice Bauer of Plainview (White County), Ark. on August 14th, 1911, celebrated her 100th birthday last year, and left this life to be with her Lord and Savior June 3rd, 2012, encircled by the love of her family. The second eldest of seven siblings, Norma is survived by her brother Charles Bauer of Judsonia and her sister, Libba Patterson of Novato, Calif. Her husband, T.H. Young and daughter Ann B. Ekman preceded her in death. Mrs. Young is further survived by two daughters, Kay Wright of Fayetteville and Sue Hurt of Jonesboro, along with five grandchildren and eight great-grandchildren.
Dennis Bennett, now retired Pastor from First Presbyterian Church in Searcy, in describing his first formal introduction to Mrs. Young remembers, "My new friend asked me, 'Did you know I'm the Chicken Nugget lady?"
Quoting Mrs. Young, Bennett, in an article submitted to Southern Living magazine relates Norma's story: "John Miller, owner of Miller Milling and Feed Supply encouraged me to enter a chicken contest. Why in 1965, he even agreed to sponsor me. You would have loved my first big winner, the Chicken Sundae Sandwich. It was a chicken breast, saute'ed, with sundae pineapple sauce and served on toasted French bread slices. Doesn't that sound delicious? But, I didn't really come into my own until the 1971 National Chicken Cooking contest sponsored by the national broiler council held in Ocean City, Maryland. And wouldn't you know, I had to wait three months to learn how I had done; and, the notification by telegram didn't come until 8 p.m., and it simply stated that I had been selected to represent my state at the national level. That recipe was Golden Chicken Nuggets With Three Sauces. And that my friend," here she paused and patted the back of my hand, which she held ever so gently, "was the birth of chicken nuggets and the most popular chicken contest winner's recipe in history."
Mrs. Young subsequently upheld her role as the "Chicken Queen" by touring throughout the U.S. and Europe, making live appearances and television interviews about her chicken nuggets creation.
In a 2003 essay for the National Chicken Council website, Elton Maddox, then President and CEO of Wayne Farms and Chairman of the National Chicken Council, refers to Norma's winning of the NCC sponsored Chicken Cooking Contest: "One of the original convenience products was the chicken nugget. As some of you may know, the concept of a chicken nugget was premiered right here at the National Chicken Cooking Contest back in 1971, when Mrs. Norma Young of Arkansas won the grand prize with her Dipper's Chicken Nuggets. Mrs. Young used a piece of whole-muscle meat to make her nuggets and fried them in oil." Said Mr. Maddox, "Mrs. Young was a culinary pioneer that sparked a chicken revolution."
"You know, I think I've got one more big idea still left in me," recounts Kay Wright of her mother's explaining her next poultry creation in 1994 intended for the chicken cooking contest. However, the "Chicken Twister" was destined not to be entered, as her family counseled her that she had already given enough away to the public domain. The words, "Chicken Twister" were then trademarked and the design for the twisted chicken sandwich was patented. Kentucky Fried Chicken purchased the trademarked "Chicken Twister" name in January of 1996, on the day of Mrs. Young's first great-grandson's birth.
Mrs. Young was President and a founder of the Searcy Junior Auxiliary, President of the Beethoven Music Club, President of Searcy Phoenix Club, as well as Deacon and Elder in the First Presbyterian Church. She was also a soloist and member of the church choir.
Memorial Services will be 3:30 p.m., Friday, June 8, 2012 at the First Presbyterian Church in Searcy. Private interment will be at Evergreen Cemetery in Judsonia, Arkansas. The family asks that memorials to her life be made to the First Presbyterian Church, 400 West Arch Ave., Searcy, Ark. 72143.
In an undated writing, Mrs. Norma, as she was known at the Presbyterian Church, wrote, "Grief must change from the meaning of loss in one's life to the value of the life lived." Indeed, her multitude of friends, her family and her extended family of chicken nuggets lovers around the world now celebrate her valued and creative life.
Wrote Bennett, "She has endured life's ups and downs, left her mark in life, and entered the twilight of her life with her head ladylike high and a mind always excited about life and its challenges. Ms. Norma was a genteel Southern lady, who knew about finger lickin' good." To sign the online guest book, visit www.mooresfuneralchapel.com.
Published June 7, 2012
OBITUARY SUBMITTED BY:
Moore Chapel
206 West Center Street, P.O. Box 1149, Fayetteville, AR
Phone: 479-442-7314