Gary Wayne Williamson
Austin, TX, 1937 - 2014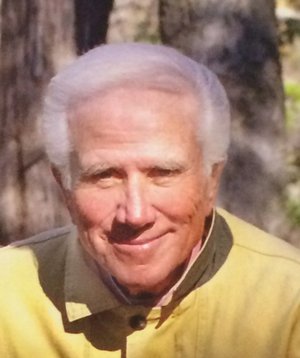 Gary Wayne Williamson, M.D. left the loving presence of his family on April 15, 2014. Gary was born on November 29, 1937 in Hot Springs, Arkansas, the youngest of five children born to Ruth Ella and Joseph Henry Williamson. Two brothers, Robert and Earl, preceded Gary in death, as well as his sister Jo Helen Cook. He is survived by his oldest brother, Loyd Dean Williamson of Little Rock, as well as many nieces and nephews, all of Arkansas.
Gary received his early education in Hot Springs, while growing up on the family farm. He received his B.S. degree from Hendrix College in Conway, Arkansas, followed by a Master's degree at the University of Arkansas at Fayetteville. He received his M.D. degree from the University of Arkansas Medical School in Little Rock. During the Vietnam War, he began his service to his country when he was called to active duty, and he served in the Air Force from 1967-1969, while stationed at Carswell Air Force Base in Ft. Worth. Following his honorable discharge, he came to Austin for a football game between Arkansas and Texas, and a short while later he moved his family to Austin, to fulfill his lifelong dream as a radiologist, with Capital Imaging Association. He soon became a familiar face around St. David's Hospital, where he served as Chief of Staff. He was also President of Texas Radiological Society, President of Travis County Radiological Society, Chief of Staff at St. David's Hospital, and named as a Diplomat of the American Board of Radiology, Texas Medical Society, and a fellow of the American College of Radiology. In addition to all of this, he managed to find time to serve as President of the Re-Write of the Medical Practice Act for the State of Texas, and was honored by them as a recipient of the Commendation Award. Additionally, for his contributions to Austin YMCA, he was awarded the Distinguished Service Award.
Although Gary was devoted to, and immersed in his studies, while pursuing his M.D., he did manage to find time to court a girl from Mountain View, Arkansas, and in 1960 he married Jacqueline Rosa Jones, and they began their lifelong journey together, including the raising of their three children. Although his love of radiology demanded long hours, Gary was never too busy to enjoy life with Jackie, and she could frequently be seen needle pointing in the golf cart while Gary practiced a sport he dearly loved, or taking up the sport of bird hunting herself, and joining him on many trips to South Texas during quail season, accompanied by occasional friends, and Gary's beloved bird dogs, who always obeyed his order to "Kennel Up" which later became his license tag. Gary's hunting dog, "Pards" will be lost without him. Gary found time to enjoy time spent at Austin Country Club with his golfing buddies, winning several matches along the way, and being honored as Sportsman of the Year.
Although Gary left the family farm behind, the farm life never completely left him, and he nurtured his love of the out-of-doors, and always had a very productive garden growing along the boundary with Camp Mabry, behind his house, each spring. And it was while enjoying his time gardening, or working with his hunting dogs, that his neighbors could occasionally be treated to the sound of Gary's wonderful laugh drifting over the fence.
Gary and Jackie were blessed with the love they shared during the many years they spent together, many of them enjoying an active social life e in Austin, and the blessing of their home in Iron Horse Mountain, in Whitefish, Montana, where they loved to entertain their many friends, and spend winter holidays in the snowy shadow of Glacier Peak with their family. There are the memories that will keep the love of Gary alive in the hearts of his beloved wife of 54 years, Jackie, and their three children: Kevin, and partner William Miller, Lezlie and John Glade, Jennifer and Sam Lucchese, and grandchildren Grayson, Helena, and Jacqueline Glade, Talley and Sam Lucchese, and granddaughter Channing and her husband Micah Wakeman and their four daughters.
The family would also like to give a special thanks to his caregivers, Owen, Lourdes, and Simone.
And so we must all say goodbye to a remarkable man with the words of John Donne imprinted upon our hearts···"No man is an island, entire of itself; every man is a piece of the continent, a part of the main." We will forever miss you, Gary Wayne!
Services to be held at The Episcopal Church of the Good Shepherd, 3201 Windsor Road on Wednesday April 23, 2014 at 3 p.m. in the afternoon. Reception to follow.
In lieu of flowers, the family requests that donations be made in his memory to The Episcopal Church of the Good Shepherd 3201 Windsor Road, Austin, Texas 78703 or The First Tee of Austin, 5501 Ed Bluestein Blvd., Austin, Texas 78723. Arrangements by Weed-Corley-Fish Funeral Home, (512) 452-8811. Obituary and memorial guestbook available online at www.wcfish.com.
Published April 19, 2014