Myrtle Elizabeth Larson
Gillham, AR, 1914 - 2014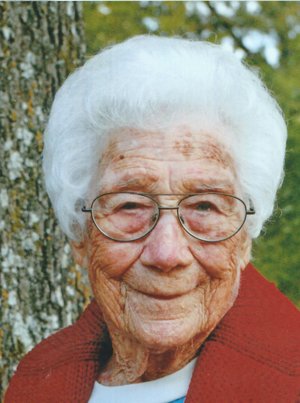 Mrs. Myrtle Elizabeth Larson, 100, of Gillham, Arkansas went to be with her Lord and Savior on Saturday, December 13th at her home. Born May 12, 1914 to Herbert Marshall and Ethel Boren McMaster near Okolona, Arkansas. She married Willie Lee Larson on September 18, 1935 and celebrated their 60th anniversary.
Preceded in death by her parents, husband, infant daughter, Judith, step-mother, Iva Williams McMaster, brother, Herbert Que McMaster, and his wife, Elizabeth, and her beloved pet, Honey. Survived by her sons, Larry Larson and wife, Dorothy of Paragould, Max Larson of Gillham, granddaughter, Larisa Wallace and husband Mason of Paragould, great-grandsons, Eli Mason and Ty Larson Wallace, nieces, nephews, cousins and a host of friends.
A celebration of her life will be held at First Baptist Church in Gillham on Wednesday, December 17, 2014 at 2 p.m. with Bro. Jerry Hill, Dr. Preston Hobson, and Bro. Steven Chenoweth officiating. Individuals will be able to share memories. Burial will follow at Valley Cemetery on the hill overlooking their farm. The family will receive friends on Tuesday, December 16th from 5 to 7 p.m. at Chandler Funeral Home. Lasting memorials may be sent to: The Gideon's International, P.O. Box 140800, Nashville, Tennessee 37214-0800. You may send an online sympathy message at www.chandlerfuneral.com.
Published December 16, 2014