Mary Bailiff Crittendon
of Little Rock, AR, 1920 - 2014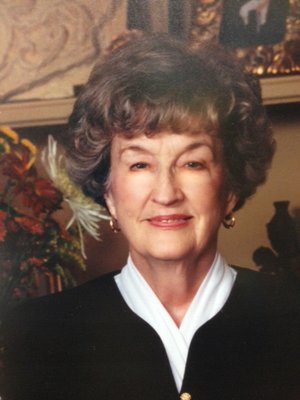 Mary Bailiff Crittendon, 94, of Little Rock, passed away December 23, 2014, at St. Vincent Infirmary. She was born November 12, 1920 in Nashville, Tennessee to Charles Edgar and Elva Elizabeth Logan Bailiff. She graduated high school in Tampa, Florida, and attended the University of Tampa. She graduated from Wayland Baptist University in Plainview, Texas in 1981.
During World War II, She met the love of her life, a handsome young air force officer, named Cook Crittendon. They were married July 15, 1946, in Tampa. Through the years, they lived in various places, including Pauls Valley, Oklahoma; Ft. Worth, Paris, and McAllen, Texas, Bakersfield and Fresno, California; Dallas and Lubbock, Texas; before moving to Little Rock in 2006.
She worked in several occupations during her career—as a mechanical draftsman, then a secretary, and later as a computer programmer for First National Bank in Dallas and for Texas Tech University from 1973 until her retirement in 1987. She was a member of Immanuel Baptist Church and the Daughters of the American Revolution.
A son, Paul H. Crittendon, preceded her in death in December 2002, and a brother, Carlos L. Bailiff, in October 2005. Survivors include her husband; a daughter, Dr. Carol Crittendon-Meadors and husband Dr. Fred Meadors of Little Rock, Arkansas; a daughter-in-law, Beverly Crittendon Welker of Dallas; a nephew, James A. Bailiff, of Chattanooga, Tennessee; and five grandchildren: Joshua L. Crittendon of San Francisco, California; Andrew P. Crittendon of Austin, Texas; Alexander C. Crittendon of Oakland, California; Dr. Steven F. Meadors (Dr. Kevan Beth Meadors) of Dallas, Texas; and Natalie C. Meadors of Los Angeles, California.
Visitation will be at Roller-Chenal Funeral Home, 13801 Chenal Parkway, Little Rock, Ark. (501) 224-8300 December 26, 2014 from 5-7 p.m., and there will be a graveside service at Roselawn Memorial Park on Saturday, December 27, 2014 at 11 a.m.
In lieu of flowers, memorials can be given to Good Shepherd Ecumenical Retirement Center, 3 Shepherd's Cove, Little Rock, Ark. 72205, or to Immanuel Baptist Church of Little Rock.
Online guestbook: www.rollerfuneralhomes.com/chenal.
Published December 25, 2014