Gerald Lagesen Ewald
of North Little Rock, AR, 1927 - 2013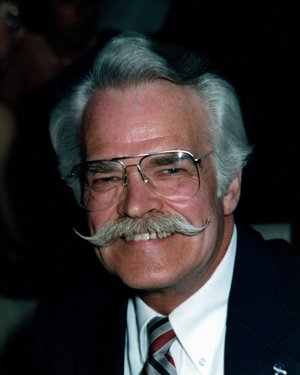 In North Little Rock: a truly awesome guy, GERALD LAGESEN EWALD, died Oct. 13, 2013. Ewald was born March 6, 1927 to Arden Anton Ewald Sr., and Erna Lou Ewald. He resided most of his life in Plano, Texas with the love of his life, his wife MaryAnn. In 2010, Ewald and his wife moved to Arkansas to be nearer to family. A memorial service was held to celebrate his life Jan. 10, 2014 at Trinity United Methodist Church in Little Rock.
As the son of a military father, Ewald spent an interesting childhood moving frequently. Following his graduation from high school in San Diego, Calif. Ewald enlisted in the Army Air Force Cadet Program in 1944 and served in the U.S. Air Force from 1945-47. After leaving the service he attended several top art schools including Central Academy of Commercial Art (CACA) in Cincinnati, Ohio. CACA was one of the highest rated art schools in the country where Ewald was awarded student of the year in 1950 and 1951. Also in 1951 he won First Place Awards in design and in illustration, the highest honors ever awarded at CACA. After graduation he joined the C S Kane Advertising Agency in Knoxville, Tenn. as art director developing many clients. Ewald also found time to teach art at the University of Tennessee.
From there Ewald went to St. Louis, Mo. where he worked at one of the nation's largest studios, Cassell Watkins Paul. He worked with a staff of 40 artists serving as designer, art director and member of the agency's plans board. Clients included Anheuser Busch, Ralston Purina, Brown Shoe Company, Dairy Queen, Coca Cola, Lone Star Beer, Centex Construction Company, Zales Corporation, and the United States Air Force.
In 1960 the St. Louis studio opened a branch in Dallas, Texas, headed by Ewald. After establishing a significant presence for that agency Ewald decided to pursue his dream and opened his own advertising studio garnering such clients as Fairmont Hotels, Steak and Ale Restaurants, the University of Texas Life Science Center, Presbyterian Hospital and many more. During his professional career Ewald won numerous design awards including the prestigious "Best of Show" from Commercial Art Magazine, still the largest international trade journal of visual communications for his logo created for Dallas Baptist College.
Ewald closed his commercial art studio in 1980 leaving him time to pursue his painting and leisure activities. He enjoyed a variety of hobbies such as playing the piano, gardening, and writing published short stories. His all time favorite though was singing, be it jamming it up with friends, in the church choir, or with family. Ewald's love of singing brought him to the Vocal Majority Mens' Chorus winning 8 international gold medals in competition and singing across the U.S. and Europe.
Ewald is preceded in death by his parents; and his brother, Arden A. Ewald Jr. (Gloria). He is survived by his wife of 61 years, MaryAnn; a daughter, Luanne Blaylock (Len); a sister, Erna Lou Hutchinson (Don); a granddaughter, Susan Veasey-McGrath (Kelly); many nieces and nephews; and one furry, faithful friend, Cody. Ewald will be missed and remembered as a wonderful husband, father, and friend.
Published January 12, 2014