Elizabeth Pauline Mathis
Arkadelphia, AR, 1924 - 2014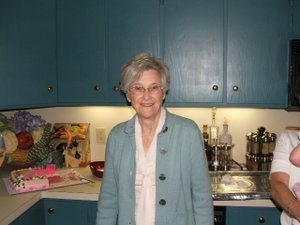 Elizabeth Pauline Glanton Mathis, age 89, of Arkadelphia passed away Sunday, January 12, 2014. She had resided at Emeritus Pleasant Hills Retirement Center, Little Rock for the last 15 months. Pauline was a daily example of living from her Christian faith as a friend, church member, wife, and leader of her family. She was a deeply. Pauline was born in Hempstead County October 2, 1924 to William Thomas Glanton and Rosaltha Brooks Glanton.
She is predeceased by her husband of 65 years, Winston M. Mathis. brothers, Fred Glanton of Hope and Ray Glanton of Longview, Texas. She is survived by her children, Pat Rowe Cook (Curtis) of Little Rock, Rebecca Tackett (Gary) of Searcy, Darrell M. Mathis (Julie) and Janet Calicott, both of Little Rock. grandchildren Wendy Cook, Jeff Cook (Janice), Amy Wood-Cook, Terry Tackett (Elizabeth), Russell Mathis, Kerry Mathis Boulware (William), Carley Harrigan (Brent), Kyle Pickering, Jason Calicott,Sara Calicott and Katie Calicott Lienhart (Mark). and 14 great-grandchildren. Also survived by sister Lucille Wall (Charles), brother-in-law Randall Mathis (Helen) and sister-in-law Gayle Mathis Owen.
Pauline was raised in Hempstead County and Nevada County Arkansas. In 1944 she was widowed by Carl Rowe, who sacrificed his life in service to the Army during World War II. Pauline and Carl were the parents of her eldest child, Pat. She and Pat moved to Clark County in 1946. In November of 1947, she married Winston Mathis. Together they had three children, Becky, Darrell, and Jan. They raised their four children on a family farm in the Trinity community near Okolona until 1964. At that time they moved to Arkadelphia into a home Winston built.
Pauline was an active member and leader of St. Andrew United Methodist Church. Cleaning the church, frying fish for fundraisers, coordinating children's events, and painting the church parsonage are just a few of her endless list of service to her church community. She worked for Hollywood Vasserette and Fafnir Bearings. After retirement, she immensely enjoyed working for Andrew's Candy Kitchen during the holiday season.
She loved sharing her passion for sewing and cooking with everyone. She was an accomplished seamstress, quilter, and gardener. No one passed up an opportunity to join the Mathis family for a meal prepared by Pauline from their garden!
Pauline's love for her family extended out to nieces and nephews of multiple generations. Her time and attention left everyone with love. She will be missed by her beloved Jack Russell terrier, Bogey (18 years old!).
The family gives thanks to the staff and her many new friends at Emeritus Pleasant Hills. In lieu of flowers, memorials may be made to St Andrew United Methodist Church, 2301 Crawford St., Arkadelphia, Ark. 71923 or Arkansas Hospice, 2200 S. Bowman Road, Little Rock, Arkansas 72211.
Services will be at 1 p.m. Thursday, January 16th at Ruggles-Wilcox Funeral Home with Pastor Bob Sanders officiating. Interment will be in Rest Haven Memorial Gardens. Visitation will be 6-8 p.m. Wednesday at the funeral home. Online guest register is available at www.ruggleswilcox.com.
Published January 14, 2014
OBITUARY SUBMITTED BY:
Ruggles-Wilcox Funeral Home
517 Clay St., Arkadelphia, AR
Phone: 870-246-4551
http://www.ruggleswilcox.com