Eloise Francis Hartlein
Sacramento, CA, 1919 - 2014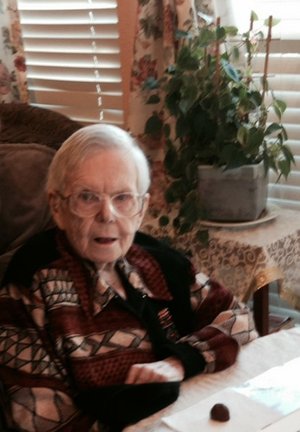 Eloise Francis Hartlein passed away peacefully on June 23, 2014 in Sacramento, California. She was born on March 23, 1919 in Coal Hill Arkansas to Harvey and Bertha (Turbyfill) Hardgrave. She married her late husband Dane and then opened her first beauty salon in Coal Hill. In the 1940s they moved to California where Eloise owned beauty salons in Richmond and Oakland before her retirement. After retirement she and Dane moved to Grizzly Flats for a few years and then settled in Watsonville, where they lived for more than 30 years.
Eloise and Dane were volunteers at the Santa Cruz County Senior Gleaners for more than twenty years. Eloise also worked for many years for the Volunteer Tax Assistance program providing free income tax assistance to low income seniors in Watsonville. Eloise liked to travel and especially loved Hawaii. Her travels also took her to Mexico, Spain, Portugal and Ireland. She often travelled with her late friend Austine Boroff of Watsonville.
Eloise was preceded in death by her husband, Dane of Watsonville, sister, Wilma Armstrong and nephew Jerry Armstrong of Ventura California. She is survived by her niece and her husband, Sandi and David Bilbo of Sacramento, nephew and his wife, James and Keira Armstrong of Ventura, second nieces, Jeri Armstrong and Fae Armstrong of Ventura, and Cara Norris of Auburn, second nephews, Cory Norris of Grass Valley and Cooper Armstrong of Ventura, and cousins Pat Shamblin and wife Patricia of Victorville, Reba Rose and LT Fraser and wife Sandra of Little Rock Arkansas.
Eloise will be laid to rest at Ivy Lawn Cemetery in Ventura. In lieu of flowers please make donations to the Santa Cruz County (California) Senior Gleaners.
Published July 1, 2014