John Bailey Hale
Lillian, AL, 1930 - 2014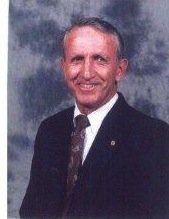 John Bailey Hale, age 84, passed away Sunday, June 22, 2014 in Bay Minette, Ala.
John built a career in the engineering field in the greater Little Rock, Ark. area, and boasted many engineering accomplishments while working as a civilian in Civil Engineering at Little Rock Air Force Base and the Veteran's Administration facilities in and around Little Rock, and served as president for many years of the AFLCO, American Federation of Government Employees local union in Jacksonville, Ark.
He was very active in his community as President of North Arkansas conference of the United Methodist Men for several years. Always active in his local church, instrumental in the success of the Arkansas Rice Depot backpacks for kids program which feeds hungry school children. He was particularly fond of this program, having been a child during the Great Depression, he had known real hunger, which was his driving inspiration in this project. He was a thirty-second degree Mason, a Shriner and at 25 years of age, became one of the youngest Past-Masters in Arkansas. He was also active in five different Toast Masters chapters in the Little Rock area. In 2002, the Hale family retired to the Gulf Coast and made their home in Lillian, Ala.
Survived by his loving wife of 66 years, Loverda L. Ayers Hale; daughter, Theresa Annette Hale both of Lillian, Ala.; daughter, Susan Denine Hale Smallwood and son-in-law Timothy Paul Smallwood; granddaughter, Sarah Anne-Louise Smallwood of Navarre, Fla.; and a son, John Quentin Hale and his wife, Diann of Morrilton, Ark.
John was a World War II veteran, having served in the Army Air Corps in the South Pacific. A private memorial was held and John's ashes were interred at Barrancas National Cemetery located aboard Pensacola Naval Air Station. Arrangements by Wolfe-Bayview Funral Homes and Crematory, Inc., 2551 S. McKenzie Street, Foley, Ala. 36535. (251)943-2391 www.wolfefuneralhomes.com.
Published July 13, 2014