Billy Arnold Conrad
Fayetteville, AR, 1929 - 2014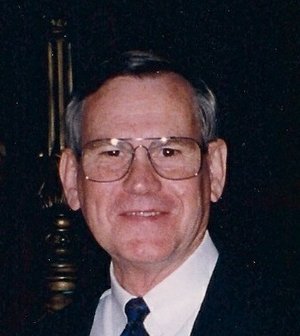 Billy Arnold Conrad, age 85, of Fayetteville, passed away July 24, 2014, after a long illness. He was born March 1, 1929, in Stuttgart, Arkansas, to Arnold and Ola Hicks Conrad. He graduated from Little Rock High School in 1948 and from Henderson State University in 1952. After ROTC experience at Henderson, he was commissioned into the United States Army, where he served in Korea and then in the Army Reserve, achieving the rank of Lieutenant Colonel.
Returning to Arkansas, he was overjoyed to see his nine-month-old daughter for the first time. He then began his career by earning a Master's Degree in Economics at the University of Arkansas and working with the Douglas Walker Accounting Firm. He then served as comptroller for McClinton-Anchor Company. In 1982 he joined the investment firm of A.G. Edwards & Sons, Inc., eventually becoming senior vice-president and enjoying a very successful and rewarding career spanning more than 28 years.
Throughout his life he served the community of Fayetteville through Rotary Club, Jaycees, and other civic and church involvements. His favorite time was spent outdoors--playing golf with friends at Fayetteville Country Club, boating on Beaver Lake or Table Rock Lake in Missouri, and fishing with his son and grandsons and most recently with his wife Rosemary at Stetson's on the White River. He especially enjoyed hosting all his children and grandchildren on the beach at Seaside, Florida, each summer. He traveled extensively, including many trips to his favorite city of Paris.
Bill was a gentleman of unfailing grace, pleasant and unflappable in the most difficult of situations. He was universally respected and a very good friend to many people of all ages. He was deeply loved and will be forever missed by his family and friends.
Bill was preceded in death by his parents and by his wife, Barbara Holden Conrad. He is survived by his wife of 20 years, Rosemary Pullen Conrad; daughter, Deborah Conrad Wilson and her husband John of Fayetteville, Arkansas; son, William Holden Conrad Sr. and his wife Lisa of Sugarland, Texas; stepson, Edward E. Prewitt and his wife Jennifer of Fayetteville; stepdaughter, Elizabeth Prewitt of Atlanta, Georgia; sister, Nancy Conrad Rankin and her husband Robert of Springfield, Missouri; five grandchildren, Richard Emmette Gathright, Jr., Lindsey Gathright Frugier and her husband Arnaud, William Holden Conrad Jr., Maggie Elizabeth Ann Conrad, Fletcher Ransom Prewitt; niece, Tracey Maxfield and one nephew, Scott Rankin. His family especially appreciates the help provided by his caregivers Connie Payne, Audra Drew and the staff at North Hills Life Care and Rehabilitation.
A memorial service will be held on Monday, July 28, at 3 p.m. at Saint Paul's Episcopal Church in Fayetteville. In lieu of flowers, memorial contributions may be made to Washington Regional Hospice, 34 West Colt Square, Fayetteville, Arkansas 72703 or Saint Paul's Episcopal Church, 224 North East Street, Fayetteville, Arkansas 72701. Arrangements are under the direction of Moore's Chapel in Fayetteville. To place an online tribute visit www.mooresfuneralchapel.com.
Published July 26, 2014
OBITUARY SUBMITTED BY:
Moore Chapel
206 West Center Street, P.O. Box 1149, Fayetteville, AR
Phone: 479-442-7314