Myrtle F. Howell
Austin, TX, 1919 - 2014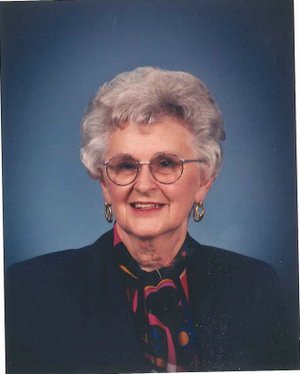 Myrtle F. Howell, 94, of Austin, Texas passed away peacefully July 23, 2014 at the home of her son, Steve and daughter-in-law Carolyn. She was born Oct. 31, 1919 in Licking, Mo. to William and Delpha Wantland Rodgers and was one of six daughters. She met the love of her life, Archie Howell at a USO dance in Tulsa, Okla. in 1946. They moved often for Archie's career with the FAA before settling into retirement in Little Rock.
She loved flowers and had flower-filled gardens no matter where they lived. Mrytle and Archie shared 54 years together and had a strong love for each other and family. They made many wonderful friends over the years and had an extended family at the Trinity United Methodist Church in Little Rock. She was by Archie's side during his long battle with cancer until he passed away in 2001. While her sons were young, Myrt dedicated her life to being a Mom and homemaker, however, she also enjoyed working in retail and eventually opened her own antique shop in Little Rock. She was fiscally conservative, but did enjoy a little gambling now and then—either playing the stock market or the slots at the casinos. At the young age of 90, she and her sister Dora Lee took a gambling road trip in Dora Lee's RV. The adventure was dubbed the "Thelma and Louise" trip. Myrtle was quick with her lovely smile and had a wonderful sense of humor even in her final days. When asked how she was doing, she would flash her classic smile and quip "Better than you are."
She is survived by her son, Steve Howell and wife Carolyn of Austin, Texas; son, Mark Howell and wife Diane of Fishers, Ind.; granddaughter, Stacey Riley and husband Matt; great-grandchildren, Ella and Isaac; granddaughter, Brooke Riley; sister, Dora Lee Blacklock of Arlington, Texas; and numerous nieces and nephews.
A very special thank you to Myrtle's wonderful caregivers/friends Anna, Natalia, Feibe, Rachel and Kaci who brought joy and laughter to Myrt, Steve and Carolyn's lives these last six months. We couldn't have done it without them. Myrtle will be laid to rest next to Archie at Memorial Park Cemetery in Tulsa, Okla. Graveside services will be July 28, 2014 at 1 p.m. In lieu of flowers, plant some flowers in Myrtle's memory or make a donation to your favorite charity. Moore's Southlawn 918-663-2233 share memories at www.moorefuneral.com.
Published July 27, 2014