Claire McCollough White
of Little Rock, AR, 1928 - 2014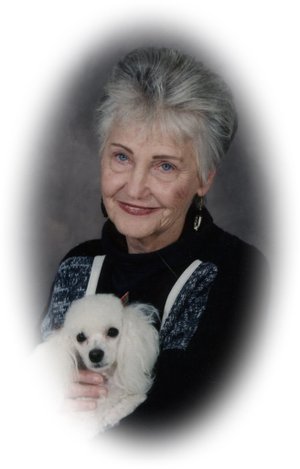 Claire McCullough White passed away peacefully at her Heights home surrounded by her caregivers and loved ones. She was born on July 20, 1928 in Little Rock where she was an avid dance student and theater lover. She attended UALR (Little Rock Junior College) where she was voted a fraternity Sweetheart and studied Theater Arts. She soon married and had two children, Cindy and Scott Copeland. Years later, she was the proud Nana to Tiffany Watkins, Toby Watkins and Sydney Copeland. The happiest days of her life were spent with her second husband, Dr. Warren A. White, who she shared her love of travel, shopping, playing bridge among many others. Warren, who ultimately retired, persuaded her to sell Claire McCullough Property Management Company so they could move to Hot Springs Village for a life filled with golf outings and evenings filled with dancing. They maintained a condo in Little Rock so they could be with Claire's children and grandchildren often. Claire and Warren also shared a tremendous love for "Troubles", their adorable toy poodle whom they adored. Claire was rarely seen without her as Troubles was like her little family and a great sense of love and security after Warren passed away.
Claire was preceded in death by her beloved husband, Dr. Warren White, sister, Betty Ann Alexander, mother, Anita Haynes McCullough and father Claire C. McCullough all of Little Rock. She is survived by Cindy Murphy (Chip) and her brother, Scott Copeland (Christy), and grandchildren, Tiffany Robinson (Daniel), Toby Watkins (Maya) and Sydney Copeland.
Arrangements by Roller-Chenal Funeral Home 13801 Chenal Parkway Little Rock, Ark. (501) 224-8300. In lieu of flowers, donations may be made to Women & Children First (P.O Box 1954, Little Rock, Ark. 72203) or Arkansas Hospice Foundation (14 Parkstone Circle, North Little Rock, Ark. 72116). Online guestbook: www.rollerfuneralhomes.com/chenal.
Published June 4, 2014
OBITUARY SUBMITTED BY:
Roller-Chenal Funeral Home
13801 Chenal Parkway, Little Rock, AR
Phone: 501-224-8300
http://www.rollerfuneralhomes.com/chenal