Lloyd Oliver Warren
Fayetteville, AR, 1915 - 2014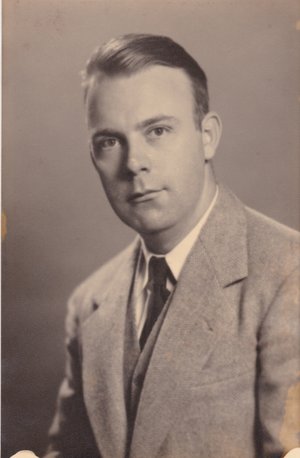 Lloyd Oliver Warren of Fayetteville passed away on Sunday, June 22, 2014. He was born on December 27, 1915, in Fayetteville, the son of Elliott and Nona Warren.
Survivors include his wife of 72 years, Ruby Warren, daughters and sons-in-law Michele and Roy Lang of Hot Springs, Denise and George Jones of Littleton, Colorado, and Lynette and Rick Cartwright of Little Rock, brother Charles Warren of Englewood, Colorado, sisters Helen Murphy of Fayetteville and Velma Brown of Rogers, four grandchildren, and three great-grandchildren, as well as several nieces and nephews.
Lloyd graduated from Son's Chapel School and University High School. He earned a BSE degree and an MS in biological sciences from the University of Arkansas, and a Ph.D. in entomology from Kansas State University. He delayed completion of his education to enlist in the Naval Reserve in 1942 during WW II. After training to be a Naval photographer, he was assigned to New Caledonia Aircraft Base and then to the USMC First Provisional Brigade for the Mariannas Operation. He completed his Naval service at the Naval Photographic Science Laboratory in Anacostia, Maryland.
Lloyd began his career at the University of Arkansas in 1939 as a student assistant, returning after the war to continue his studies and serve as instructor and junior entomologist. He entered graduate school at Kansas State in 1951, where he was an instructor in General Entomology and laboratory classes. Upon completion of his Ph.D in 1954, he returned to the University of Arkansas as Assistant Professor. He served as Professor of Entomology from 1963-1973, when he was appointed Director of Arkansas Agriculture Experiment Station. In 1983 he returned to the Entomology Department before retiring as Professor Emeritus in 1986.
In 1994, Lloyd was elected Distinguished Alumnus, College of Agriculture, Kansas State University. In August 1997, a laboratory building at the University of Arkansas farm was renamed the Cralley-Warren Laboratory in recognition of his and Dr. M.E. Cralley's service as Directors of Experiment Station. Lloyd received the Historical Merit Award in 1994 from the American Baptist Association in honor of his "significant contributions to the preservation and study of Baptist History." He was named Washington County Citizen of the Year by the Washington County Historical Society in 1998.
Lloyd was a member of Central Baptist Church in Fayetteville, where he served as teacher, deacon, and trustee. He was a board member and past president of the Fayetteville Evening Lions Club, a life member of the Washington County Historical Society, member and past president of the Washington County Retired Teachers' Association, and lifetime member of Arkansas 4-H Alumni Association. He also held memberships and served on committees in various professional organizations throughout his career.
Lloyd enjoyed researching and writing about Washington County history, church history, and family genealogy. His love of photography was evident in the many pictures he took while traveling through the United States and various foreign countries with his wife and family.
"Dr. Warren", as many knew him, was loved and respected as an example of a true gentleman and scholar. His love of nature and insects in particular prompted many a sudden stop in the middle of the road to get a "better look", much to the dismay of his daughters and at least one son-in-law who mostly just watched the rear view mirror. Dr Warren will be missed by all who knew and loved him.
Visitation will be at Nelson-Berna Funeral Home on Thursday, June 26 at 10 a.m. with funeral service following at 11 a.m. The family will have a private burial service at the cemetery.
In lieu of flowers, memorials may be made to the Lloyd and Ruby Warren Endowed Scholarship Fund, c/o Department of Entomology, University of Arkansas, Fayetteville, Ark. 72701, the Shiloh Museum, 118 W. Johnson, Springdale, Ark. 72764, or the Washington County Historical Society, 118 East Dickson Street, Fayetteville, Ark. 72701. To sign the online guest book, please visit www.nelsonberna.com.
Published June 24, 2014
OBITUARY SUBMITTED BY:
Nelson-Berna Funeral Home and Crematory
4520 North Crossover Road, P.O. Box 8982, Fayetteville, AR
Phone: 479-521-5000
http://www.nelsonberna.com