Thomas Lloyd Hollis
Bartlett, TN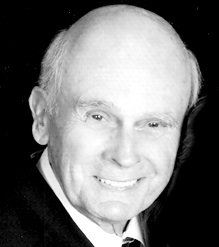 Thomas Lloyd Hollis, 79, of Bartlett, died June 21, 2014 following a short illness. He was the oldest son of Ben and Mary Lewis Hollis (deceased) of Rector, Ark., graduated high school in Greenway, Ark. and served honorably in the Air Force from 1956-60. He moved to Memphis where he was a Weather Service Specialist for the National Weather Service until he retired after 30 plus years. In 1968, Tom met and married the love of his life, Elizabeth Owen at St. Mary's Catholic Church in Memphis.
During their wonderful 46 years together, Tom and Elizabeth enjoyed raising their two sons, Jeffrey T. Hollis (Deedra) of Pickwick, Tenn. and Wiley B. Hood (Cathleen) of Fayetteville, Ark. They enjoyed traveling and Tom also loved baking and wood working, and leaves recipes, cabinets, baby beds and beautiful carvings including an angel as cherished legacies. Tom was known for his restoration of cars, his ability to repair just about anything, and a giving spirit of his time and talents, to everyone he met. He was also an active member of the British Sports Car Club.
Tom also leaves his sister, Barbara Hollis of Bartlett and his brother Ben (Isabelle) of Little Rock, Ark. and seven grandchildren, Ragan, Brannon and Lillian Hood of Fayetteville, Ark. and McKinley Hollis of Lakeland Tenn., and Stella, Lola and Eva Hollis of Pickwick, Tenn.
Tom and Elizabeth were also actively involved with their extended family at the Catholic Church of the Nativity at 5955 St. Elmo in Bartlett, Tenn. 38135 where the visitation will be held at 5 p.m. on Tuesday, June 24th followed by the Rosary at 7 p.m. The funeral mass will be at 10:30 a.m., Wednesday morning followed by a private burial at Memorial Park. Pallbearers will be David Blackard, Ronnie Blackard, Scott Willard, Jeff Hale, Jim Hale, and Russell Pollan. In Lieu of flowers, memorials may be sent to Nativity's Chapter of St. Vincent de Paul Society. Bartlett Funeral Home has charge 901-372-5555. bartlettfuneralhome.com.
Published June 24, 2014