Fern Harris
Tulsa, OK, 1915 - 2014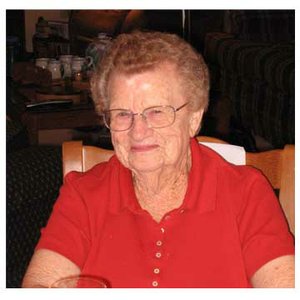 Fern Harris, 98, passed away Tuesday, March 11, 2014 in Jenks, Okla. Fern was born to Watt A. Small and Margaret (Cessford) Small on Sept. 20, 1915 in Cynthiana, Ky.
Fern was preceded in death by her parents; her husband, Leslie Harris; her son, George L. Harris; and seven siblings. She is survived by her daughter and son-in-law, Judy and Jerry Spradlin; her daughter-in-law, Rhonda Harris; one granddaughter, Monique (Harris) Ingalls and husband, Jason; and one grandson, Mark Harris.
Fern was a long time resident of Vilonia, Ark. She was a military wife and lived in several countries. She came to Tulsa, Okla. in 2005 to live with her daughter. Fern was a member of Evergreen Baptist Church in Tulsa for eight years. While in her 90's she made evangelistic bracelets for the mission work of her church. She made over 10,000 bracelets to be given to people in Zimbabwe, Kenya, Uganda, Rwanda, and Cuba by Jerry Hamlin. Fern was a loving daughter, sister, wife, mother, grandmother and friend.
In lieu of flowers the family requests memorials be made to the "AWANA" Clubs at either Evergreen Baptist Church, Bixby, Okla. or First Baptist Church, 1206 Main Street, Vilonia, Ark. 72173 or a charity of your choice.
Memorial Service: 10 a.m., Wednesday, March 19, 2014 at Evergreen Baptist Church in Tulsa, Okla. with Dr. Michael D. Gabbert of Evergreen Baptist Church officiating. Interment will be at the Little Rock National Cemetery in Little Rock, Ark. on Friday, March 21, 2014 with Dr. John Hamby of First Baptist Church Vilonia officiating.
Under the direction of Moore's Memory chapel, 1403 South Peoria Avenue, Tulsa, Okla. 74120-5616, (918) 583-6148.
Published March 16, 2014