Lester Ray Banfield
McGehee, AR, 1929 - 2014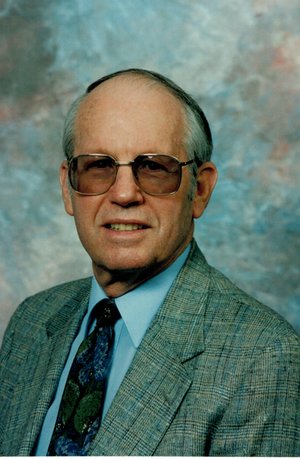 Lester Ray Banfield, 84, of McGehee passed away Friday March 21, 2014. Mr. Banfield was a cadet in the Army ROTC while attending and graduating from Texas A & M. He served in the US Army during the Korean Conflict. He was an Arkansas Outstanding Young Farmer, a longtime farmer in Desha County and a McGehee Hospital Board member. He was the dream builder and owner of Banfield Duck Funnel Hunting Club and owner-operator of Com-Cep Learning Center in Jacksonville, Fla. where he resided from 1992-2004. He was a member of First United Methodist Church in McGehee and Lakewood United Methodist Church while in Jacksonville, Fla.
Mr. Banfield was born on Sept. 18, 1929 to the late Neil O. and Annie Duffy Banfield at El Campo, Texas. His wife, Laverne Avera Banfield also precedes him in death.
He was a loving husband and father survived by three daughters, Kathy Ferguson (Charly) of McGehee, Ark., Dianne DeWitt of Arvada, Colo., and Donna Williams (Tom) of Boise, Idaho; a brother, Neil A. Banfield (Carolyn) of Rosenberg, Texas; seven grandchildren, Amy Jo Ray (Derrell), Adam Ferguson (Jennifer), Brian Ferguson (Kristi), Matthew DeWitt, Aaron DeWitt, Taylor Williams, and April Williams; five great-grandchildren, Lacy Holzhauer, Colby Holzhauer, Grace Ferguson, Eli Ferguson, and Jacob Ferguson.
The family requests that in lieu of flowers, please send a donation to either First United Methodist Church 207 North Third, McGehee Hospital 900 South Third (both in McGehee, Ark. 71654) or your favorite charity.
Visitation will be 5-7 p.m. Thursday, March 27, 2014 at Griffin-Culpepper Funeral Service in McGehee, Ark.
Funeral services will be Friday 2 p.m. at First United Methodist Church of McGehee with Rev. Joe Head officiating. Burial will follow at McGehee Cemetery.
Arrangements made by Griffin-Culpepper Funeral Service of McGehee, Ark.
Online guestbook: www.griffinculpepper.com.
Published March 24, 2014
OBITUARY SUBMITTED BY:
Griffin Funeral Services
105 North 2nd Street, P.O. Box 319, McGehee, AR