Gloanna Story Young
Monticello, AR, 1924 - 2014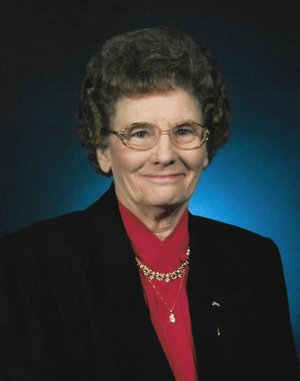 Gloanna Hall, age 89 of Monticello passed away peacefully and slipped into the presence of her Lord at Drew Memorial Hospital on March 27, 2014.
Mrs. Hall was born in Floyd, Ark. on June 7, 1924 to the late Selmer and Leora Story. She married the love of her life, Cleatous J. Hall on December 6, 1941. She was a loving and dedicated wife, mother, grandmother, great-grandmother and friend. Along with being a faithful provider in her home, Mrs. Hall was a retired supervisor for the Arkansas Employment Security Division in Little Rock. After retirement, she and her husband spent many memorable hours fishing and traveling. She loved gardening, which culminated with the canning and freezing of the vegetables she raised, working in her flowers, sewing, quilting and needle work. Mrs. Hall was a wonderful cook and gained the greatest pleasure in preparing holiday and special occasion meals for her family and friends. She leaves behind a vast collection of memories for her family to cherish.
Mrs. Hall was a member of the Arkansas Retired Employees Association and a faithful member of Oak Grove Assembly of God Church of Monticello.
Mrs. Hall is preceded in death by her parents, her husband of 71 years, Cleatous J. Hall, one sister, Audrey Blasingame of Searcy, and her daughter-in-law, Annette K. Hall of Monticello. She is survived by one son, Barry Hall of Monticello, two grandsons, Dane Hall (Paula) of Bryant, Ark. and Christopher Todd Hall of Las Vegas, Nev.; two great-grandchildren, Garrett Hall (Hannah) of Mendenhall, England and Abigale Hall of Bryant. Also a very special recognition is given to her caregiver, Jo Ann Keel of Monticello, along with her church family and numerous friends.
Visitation will be Saturday, March 29, 2014 from 6 p.m. - 8 p.m. at Stephenson-Dearman Funeral Home with a memorial service at Oak Grove Assembly of God Church on Sunday, March 30, 2014 at 2 p.m. Burial will follow in Oakland Cemetery. Memorials may be made to Oak Grove Assembly of God Church Building Fund, P.O. Box 628, Monticello, Ark. 71657. Online guestbook www.stephensondearman.com.
Published March 29, 2014
OBITUARY SUBMITTED BY:
Stephenson-Dearman
P O Box 506, Monticello, AR
Find it at: Hwy 425 N.
E-mail: sdearman@ccc-cable.net
Phone: 870-367-2451
http://www.stephensondearman.com/