Charles O. Womack
Conway, AR, 1924 - 2014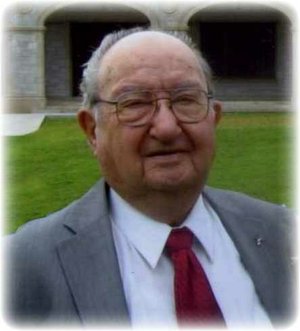 Charles O. Womack, age 89 of Conway, died Thursday, March 27, 2014 peacefully at home. Born Aug. 27, 1924 in El Paso, Ark., he was the son of the late John and Ophelia Womack, and the oldest of six boys.
During WWII Sergeant Womack served in the Army as a messenger for the 3139th Signal Battalion. His campaigns included the Battle of the Bulge (Ardennes Offensive), Rhineland and the Central European Campaign. He met his beautiful bride, Eugenia (Jean) Clements, after the war and married in 1947.
Charles was a former longtime resident and merchant of Cabot, Ark.; where he was a member of First Baptist church for over 50 years and was an ordained deacon. He retired from the Cabot Fire Department in 1967.
He worked 26 years at the Little Rock Air Force Base where he retired in 1987 as Commissary Meat Market Manager. Charles loved to spend time with his family and friends. Prior to his declining health, he loved to camp, fish, do carpentry work, grow some of the best tomatoes to be found, cheer on the Razorbacks and the Cowboys, and he loved to attend his grandchildren's and great-grandchildren's school and sporting events.
Charles and Jean relocated to Conway in 2003, and transferred their membership to 2nd Baptist Church of Conway.
Charles was a great husband, a loving dad, and a wonderful PawPaw. Most of all he loved Jesus and wanted his family to as well.
Charles is survived by his adoring wife of 67 years, Jean; two sons, Bobby (Janet) Womack of Batesville, Kent (Paulette) Womack of Conway; two daughters, Carol Sue (Eugene) Jones of Cabot, Jan (Barry) Corkern of Little Rock; brothers, Wayne (Margaret) and Johnny (Mildred) Womack; four grandsons, Rob (Stacy) Womack, Richard (Angee) Kennedy, Scott (Heather) Womack, Lawson Corkern; four granddaughters, Angelique Kennedy, Audra (Nathaniel) Keen, Jennifer (Nick) Yarberry, Lauren Boyles; two step-grandchildren, 22 great-grandchildren; three step-great-grandchildren; one great-great-grandchild; and numerous nieces and nephews. Charles was preceded in death by his parents; his brothers, Thomas, Dewey and Lyle Womack; and niece, Karen.
The family wishes to thank Arkansas Hospice and the caregivers of HomeInstead with special gratitude to Teresa Goodwin for the loving care given to Charles.
Visitation will be held from 6-8 p.m., Sunday, March 30 at Roller-McNutt Funeral Home at 801 8th Avenue, Conway, Ark. Funeral will be at 2 p.m., Monday, March 31 at First Baptist Church, Cabot, 204 N. 3rd, Cabot, Ark. with Dr. Del Medlin officiating. Burial will follow in Mt. Carmel Cemetary in Cabot with full military honors. Serving as pallbearers and honorary pallbearers will be grandsons and long-time friends, Charles George and Jack Lowman. Memorial donations may be made to the 2nd Baptist Church Conway building fund or Arkansas Hospice.
For online obituary www.rollerfuneralhomes.com.
Published March 30, 2014
OBITUARY SUBMITTED BY:
Roller-McNutt / Conway
8th and Vine, P.O. Box 249, Conway, AR
Phone: 501-374-2731