Bradley Eugene Gray
Bella Vista, AR, 1964 - 2014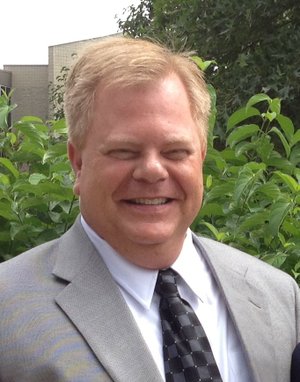 Bradley Eugene Gray of Bella Vista, Ark., passed away on Monday, April 29, 2014, at Mercy Hospital in Rogers, Ark. He was 49.
A visitation will be held at Trout Funeral Home Chapel Thursday, May 1, 2014, from 6 p.m.-8 p.m. The funeral service will be held on Friday, May 2, 2014, at 2 p.m. at the Trout Funeral Home Chapel. Burial will then follow at Odd Fellows Cemetery. Arrangements are made under the direction of Trout Funeral Home and Crematory.
Bradley was born on October 2, 1964, in Wichita, Kan., to Larry E. Gray and Phyllis E. (Dennett) Gray. He grew up in Wichita and graduated from Northwest High School. He earned a Bachelors Degree in finance from Wichita State University in 1983.
Bradley was married to Patricia Lynne Phillips on May 18, 1991, in Ponca City. They resided in Bella Vista, Ark. He was an HR Manager for Walmart, Inc. During his 29 years as a member of the Walmart Family, he was a mentor and a teacher, touching many lives. Brad loved golfing, fishing, canoeing and spending time with his family.
He is survived by his wife, Patti of the home; parents Larry Gray and Phyllis Gray both of Wichita, Kan.; sister, Cindy (John) Gray Cummings; mother and father-in-law, Bill and Glenda Phillips of Ponca City, Okla.; sister-in-law, Annette (Jeff) Phillips Bogue of Allen, Texas; numerous nieces and nephews and many more loving family members.
Casket bearers will be: John P. Chamberlin, John M. Chamberlin, Jim Chamberlin, John Cummings, Will Bogue, Conner Kirby.
Published May 1, 2014