William T. Lawson
Rowlett, TX, 1929 - 2014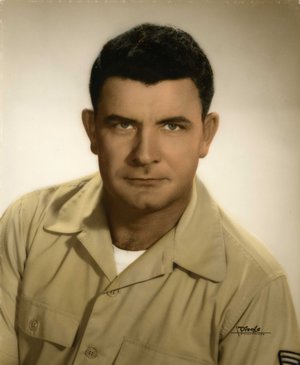 William T. Lawson, age 84, of Rowlett, Texas, passed away April 29, 2014. He was born May 26, 1929 in Warren, Ark., to Jessie James Lawson & Eva (Slaughter) Lawson. William proudly served his county in the United States Air Force during WWII, and served for a total of 20 years before retiring. He then went to work for Raytheon as an Electronics Technician for an additional 20 years before retiring. William was a member of Rodgers Baptist Church in Garland, Texas.
He is survived by his loving wife of 52 years: Maxine (Todd) Lawson of Rowlett, Texas; children: Terry Lawson & wife Irene of Omaha, Neb., Sandra Jo Jeans of Kentucky, and Ernest Lee Lawson & wife Sharon, also of Kentucky; eight grandchildren; six great-grandchildren; three brothers; and three sisters. William was preceded in death by his parents; sisters: Naomi Petry and Wanda Taft; and brothers: Alonzo, James, Leslie, Rufus and Everett Lawson.
Funeral services will be held 2 p.m., Friday, May 2, 2014 Rest Haven Funeral Home–Rockwall Chapel with Paul Ramler officiating. Interment will follow in Rest Haven Memorial Park. The family will receive friends Thursday evening at the funeral home from 6 to 8 p.m. Services under the direction of Rest Haven, Rockwall Chapel.
Published May 2, 2014