G.W. Ligon Jr.
of North Little Rock, AR, 1925 - 2014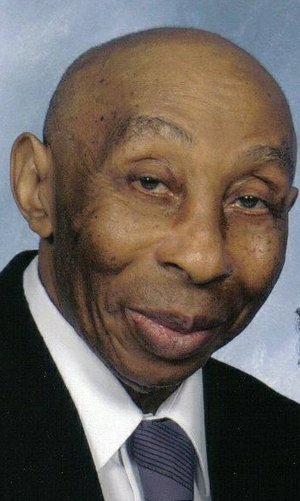 G.W. LIGON JR., 88, of North Little Rock made his transition from earthly life Thursday, May 15, 2014. He was born Aug. 6, 1925 in Augusta, Ark., the eighth of nine children born to G.W. Ligon Sr. and Mary Ratliffe Ligon. His parents and siblings all preceded him in death.
After graduating from Pulaski County Training School in 1946, G.W. moved to Chicago. On Oct. 15, 1950 he and classmate Margaret Dale were married at her parents' home in the McAlmont area. He took his bride back to Chicago, where their daughters Jacqueline and Pamela were born.
G.W. was raised in the Baptist church, but joined his wife at St. Matthew-Gordon AME Zion Church and later at St. Mark United Methodist Church. After moving back to McAlmont in 1992, he became a member of Wesley Chapel United Methodist Church in Little Rock.
In Chicago G.W. worked more than 20 years for Leavitt Brothers and 25 years for Johnson Publishing Company. He continued to stay busy as long as he was able. He was active in his community, as a member of the Community Voices of McAlmont, and the reunion committee for Holt-Pulaski County Training-Harris School.
G.W. Ligon Jr. is survived by his wife, Margaret; daughters, Jacqueline Ligon-Ivory (Alvertis) and Pamela Ligon Harris; and grandsons, Damon Goree and Richard Harris II, all of North Little Rock; granddaughter, Cristin Alexander; and great-granddaughter, Zian McFerguson, both of Sauk Village, Ill.; nephews, nieces, great-, great-great-, and great-great-great nephews and nieces; cousins; church family; and friends.
Funeral Services: 11 a.m. Thursday, May 22, 2014 at Wesley Chapel United Methodist Church, 1109 S. State Street, Little Rock, Ark. Visitation: 2-5 p.m. Wednesday at Hubble Chapel. Family hour: 7:30-8:30 p.m. at the church. Funeral services entrusted to Hubble Funeral Home, 374-3134, www.hubblefuneralhome.com.
The family asks that in lieu of flowers you consider making a donation to Alzheimer's Arkansas (www.alzark.org) to further their assistance to individuals and their families affected by Alzheimer's disease or to the Alzheimer's Association (www.alz.org) in support of research and assistance programs and services.
Published May 19, 2014