Edith Mae Foster
Mobile, AL, 1923 - 2014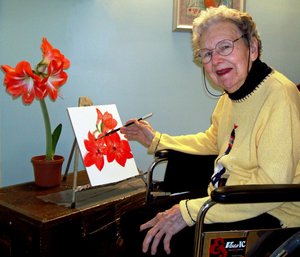 Edith Mae (Fiser) Foster of Mobile, Ala., formerly of Morrilton, peacefully passed away at the age of 91 on Nov. 3, 2014. She was born March 1, 1923 in Morrilton, Ark. to Headley Poindexter and Edith Irene (McMillen) Fiser. In addition to her parents, Edith is predeceased by her husband, Thomas Allen Foster and brother, Robert Howard Fiser Sr. Survivors include her brother, Virgil Poindexter Fiser, and daughters, Carolyn A. Foster (Hebe Jeffrey) of Scotland, UK, Barbara L. Wilkerson (Sam III) of Mobile, Ala. and E. Suzanne Higgins (Mickey) of Paragould, Ark.; five grandchildren, Emily S. Phillips and Sam C. Wilkerson IV of Atlanta, Ga., Brian R. White Shiro of Waipahu, Hawaii, Elizabeth S. Retherford of Rolla, Mo., Natalie J. White of Paragould and six great-grandchildren, Hannah and Logan Phillips, Henry and Isla Shiro, Reagan Retherford and Landon White.
Edith graduated in 1940 from Ouachita Parish High School in Monroe, La. and Northeast Junior College (now Univ. of Louisiana at Monroe) in 1942. Her family then moved to Little Rock, Ark. Contributing to the war effort, Edith worked in a munitions plant and used some of her earnings to take flying lessons, proudly making her first solo flight on Aug. 10, 1945 to obtain her student pilot license. She married Tom in 1947 and moved to Morrilton, where they owned and operated Oklahoma Tire & Supply (OTASCO). Edith lived there for 57 years and was a member of the Audubon Society, D.A.R., First United Methodist Church and GFWC Pathfinder Club. Her many activities included being a Girl Scout leader, teaching children's Sunday school, bird-watching and photography. Edith later opened a frame shop where she hosted art classes, began expressing herself as an artist and ultimately was instrumental in the creation of The Rialto Gallery in Morrilton. For the last nine years, Edith resided in Mobile, Ala. at Gulf Coast Heath & Rehabilitation (formerly Cogburn). The family wishes to express their appreciation to all of her caregivers.
A graveside memorial service will be held at Elmwood Cemetery in Morrilton, Ark., followed by a reception. The family will announce this date at a later time. In lieu of flowers, memorials are welcome at one of the following in Morrilton, AR 72110: First United Methodist Church, 201 S. Chestnut Street; Conway County Library, 101 W. Church Street; Rialto Community Arts Center, 215 E. Broadway Street.
Arrangements are under the direction of Ascension Funeral and Cremation in Mobile, AL and Harris Funeral Home in Morrilton, AR. Online guestbook: www.harrisfuneralhomes.net.
Published November 9, 2014
OBITUARY SUBMITTED BY:
Harris Funeral Home, Inc.
118 South Moose Street, P.O. Box 439, Morrilton, AR
Phone: 501-354-4575
http://www.harrisfuneralhomes.net/