Marvin Key Kauffman
Sheridan, AR, 1914 - 2014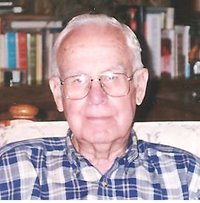 Marvin Kauffman, of Sheridan, Ark. passed away on Friday, Nov. 28, 2014 at his home at the age of 100. He was born to Wesley W. and Minnie Frazer Kauffman on Oct. 29, 1914 in Princeton, Ark. He was predeceased by his wife, Evelyn Hixson Kauffman; two brothers and two sisters. He is survived by two stepchildren, Phylise Hixson-Wilson and Jimmy Hixson; three step-grandchildren, Shiloh Hicks (New Jersey), Michelle Ordonia (Las Vegas) and Michael Hixson (California) and numerous nephews and nieces and their children and children's children.
Marvin Kauffman's life was characterized by service to his country, state and community. After graduating in 1938 from the University of Arkansas, Monticello, he taught mathematics and coached girls' basketball at Princeton High School for a year, and then volunteered for service in the U.S. Army. He was sent to Pearl Harbor as a young officer in command of a coastal artillery battery and saw action during the Japanese attack on Dec. 7, 1941. After spending a year in the U.S. training an artillery unit for combat he joined General Patton's Third Army, fought in the Battle of the Bulge, and the 40 miles from Berlin when World War II ended.
After the war, he established a Grapette production and distribution operation in Redwood City, Calif. and married Louise Williams of Camden, Ark. Marvin and Louise lived in the San Francisco Bay area until her death in 1965. He subsequently married Evelyn (Turner) Hixson of Camden, and in 1975 they sold the Grapette business in California and retired to Sheridan, Ark., where he built several custom homes. Evelyn passed away in 2006 at age 91.
Throughout his adult life, Marvin Kauffman was active community affairs. First and foremost he was active in Rotary International and served as District Governor for the southern half of Arkansas in addition to being a Paul Harris Fellow. In Sheridan, he served on the Water Board and the Economic Development Board. He was a lifetime member of the Elks Club as well as the Pearl Harbor Survivors Association. He was on the board of the Princeton Cemetery Association and a member of the Wake Forest Hunting Club as well as the Veterans of Foreign Wars. He was also a member of the First United Methodist Church of Sheridan.
Funeral services will be 2 p.m. Tuesday, Dec. 2, 2014 at Memorial Gardens Funeral Home Chapel. Burial will follow at Princeton Cemetery. Visitation will be Monday from 6 until 8 p.m. at the funeral home.
We close with one of his favorite poems;
Sunset and evening star and one clear call for me.
May there be no mourning at the bar when I put out to sea.
Arrangements by Memorial Gardens Funeral Home of Sheridan (870)942-1306. To sign the online guestbook, www.memorialgardenssheridan.com.
Published November 30, 2014
OBITUARY SUBMITTED BY:
Memorial Gardens Funeral Home
2686 Hwy 167 North, P.O. Box 540, Sheridan, AR
Phone: 870-942-1306