Lee Rene Frazier
of Little Rock, AR, 1946 - 2014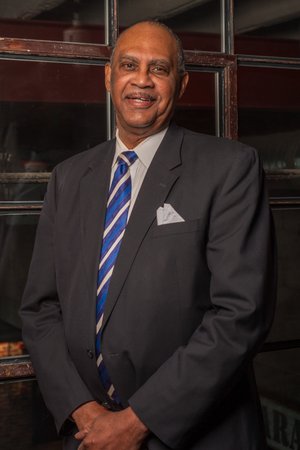 LEE RENE FRAZIER of Little Rock, Ark. was born on Aug. 31, 1946 in Washington, D.C. to Charles and Doretha Stewart Frazier. He passed peacefully at his home in Little Rock, Ark. on Oct. 16, 2014. Lee was born in Washington, D.C. and grew up there and in New Orleans, La.
Lee graduated from Archbishop John Carroll High School in Washington, D.C. While at Archbishop Carroll, he achieved many distinctions in the areas of track and field and basketball. After graduation, Lee returned to New Orleans to care for his grandmother, Eliza Smith. Upon his return, he reconnected with the charming and beautiful Deborah Ann Lombard. When Deborah was a young girl sitting on the front porch of her Aunt Carmelite's house, she would see Lee riding by on his bicycle. She resolved not to talk to that "trouble-making little boy," but thankfully for their children, they reconnected as teens and the rest is history. They were married on Aug. 24, 1968. And as Lee is fond of saying, they have been married for 46 years and have five beautiful daughters.
In 1965, Lee was recruited by Loyola University of New Orleans for his academic and athletic accomplishments. He was asked to integrate their basketball team which he proudly did. He later earned his masters at Tulane University, School of Public Health and Tropical Medicine. He did an administrative internship at Charity Hospital in New Orleans, La. After graduation, at 24 years old, Lee was appointed by Gov. Edwin Edwards to be the first African American, the first non-physician and the youngest administrator to direct Charity Hospital. His appointment to Charity Hospital earned national recognition including a feature article in Ebony Magazine. Lee served as chief executive officer for some of the largest medical centers in the country, including Charity Hospital, New Orleans; Harlem Medical Center, New York; New Orleans General Hospital (the former Sarah Mayo) and Provident Medical Center, Chicago. In addition, he was an executive at St. Vincent Infirmary, Little Rock; Jefferson Regional Medical Center, Pine Bluff; Arkansas Heart Hospital, Little Rock; St. Vincent Rehabilitation Hospital, Sherwood; and Valir Rehabilitation Hospital, Oklahoma City. He was also appointed by Arkansas Gov. Mike Huckabee as Director of the Arkansas Department of Human Services.
Lee served on the faculties of University of Arkansas for Medical Sciences, College of Public Health; University of Arkansas at Little Rock, Health Services Administration; University of Arkansas, Graduate Business; Roosevelt University, Department of Health Services; Cornell University Department of Health and Policy Management; Louisiana State University, School of Medicine and Tulane University, School of Public Health and Tropical Medicine.
Lee was elected to the Louisiana House of Representatives, where in 1983 he authored the repeal of the notorious "One-Drop Rule." The One-Drop Rule was a state established mathematical formula requiring anyone having one 30-second or more of "Negro blood" to be designated as colored. His legislation gained international attention.
In Little Rock, Lee has been appointed as vice chairman, Pulaski County Facilities Board (Alltel Arena); Commissioner, Arkansas Economic Development; president, Little Rock Heart Association; treasurer, Little Rock Port Authority; chairman, Credential Committee, Arkansas Medical Board; member, Federal Reserve Bank of Little Rock; member, Arkansas Symphony Orchestra and member, Union Rescue Mission Board. He previously served as chairperson for the Diocese of Little Rock School Re-organization Committee.
Lee was a member of several civic, social and religious organizations, including: Knights of Columbus; Paul Harris Fellow, Rotary International; Pi Boulé; American College of Healthcare Executives; Alumni, Leadership Little Rock. He took great pride in supporting his wife as a Connecting Link. He is a longtime member of Christ the King Catholic Church in Little Rock, Ark.
Although he seemed an imposing figure at 6 feet, 8 inches, Lee was known for his generosity, kindness and big heart. He cared deeply for all of his patients and employees throughout his life and went out of his way to make all of them feel valued and important as children of God.
But more important to Lee than any of his professional accomplishments, recognitions or awards was his family. Quite simply, his family was his reason for living. He and Deborah have been madly in love for more than 46 years. His greatest delight was in taking care of his wife and his five girls: Michelle, Bridgette (Mark Sims), Adrienne (Doug Ierley), Yvette and Juliette. They were the light of his life. He loves his girls fiercely and they all love their daddy. All of them to various degrees are daddy's girls. He taught them all the importance of loving and trusting the Lord and the importance of family. Lee showed his girls through words (of which there were many, especially during the teenage years) and deeds the importance of kindness, character and how a husband should treat his wife.
Besides Deborah and the five girls, his immediate family includes his grandchildren, Lee Isaac, Isabella, Spencer, Ava, Aiden and Steele. His large extended family includes his "brother" Alex Selico Henderson Dunn, his many sisters and brothers-in-law, including Maurice, Judy, Tony, Stephen, Patrice, Byron, Elton and Corey, who he loved as his own brothers and sisters. He is preceded in death by his parents Charles and Doretha Frazier and Grace and Anthony Lombard.
It wouldn't be fair to say he left them behind; indeed he trained them up well in the way that they should go, and he has gone ahead of them to pave the way home. (He really was always looking out for and taking care of his family).
A Funeral Mass and burial will be held in his home city of New Orleans. His family will hold a Memorial Mass for Lee at 1 p.m. with a rosary at 12:30 p.m. on Tuesday, Oct. 21, 2014 at Christ the King Catholic Church, located at 4000 N. Rodney Parham, Little Rock. They will have family hour on that same day at Ruffin & Jarrett Funeral Home, 1200 S. Chester St., Little Rock, AR (501) 372-1305 from 10 a.m. to 12 p.m. A program will be held from 11 to 11:30 a.m.
His family will miss his warmth, generosity and love, but are gratified by the thought that St. Peter has met him in the Light saying, "Well done good and faithful servant, well done."
Published October 20, 2014
OBITUARY SUBMITTED BY:
Ruffin & Jarrett Funeral Home
1200 Chester St., Little Rock, AR
Phone: 501-372-1305