Bert Duncan "Bucky" Clayton Jr.
of Little Rock, AR, 1944 - 2014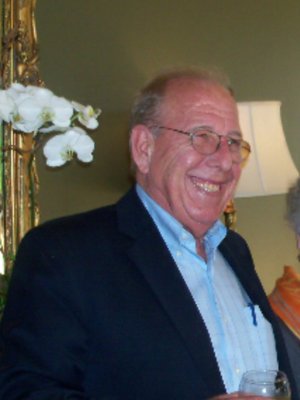 Medellin, Columbia
BERT DUNCAN "BUCKY" CLAYTON JR.
22nd January 1944 - 14th September 2014
He quietly slipped a pocket-size copy of The New Testament in the far corner of our kitchen countertop, never mentioning he put it there. With that gesture, volumes were spoken of the little man with a huge heart. Suddenly struck down by a massive heart attack while walking his dog on a Sunday afternoon in Medellin, the heavens opened up for Bucky, where his beloved parents, Burt and Bessie Clayton, were joyfully awaiting to welcome him home!
Back here in his homeland of Arkansas, there was no joy, as a loving family and many, many loyal friends grieved the loss of a dear and lovely human being. Among those were his cherished sister and brother-in-law, Mary Nell and Ike Roland of Clarksdale, Mississippi, and three nephews--Ricky, Drew, and Michael Roland; and one niece, Amanda Glidewell.
CONGENIAL is the best word that describes Bucky--easy, very likable, caring, and always showing up to lend his support. If you were fortunate enough to call him "friend," then you had a lifetime treasure in your pocket. In Bucky's eyes, all friends were golden, and he treasured each and every one.
His good friend, Robert "Bullet" Allen, offered Bucky a golden opportunity to become a part of his mining ventures in Columbia. With that generous invitation from a former college chum, Bucky moved his world to Columbia in 2005 and began a new life. There, he met his loyal life partner, Alicia O. Jaramillo, and her lovely daughter, Dr. Paola J. Ospina, and a host of new friends, while faithfully serving Bullet as a mining and real estate consultant. In Medellin - he settled- finding peace, tranquility, and a little bit of heaven--making his last days on earth feel comfortably like home.
Bucky was born in Dermott, Arkansas, grew up in Tillar, graduated from Hall High School in 1962, and joined the United States Marines the same year. Being a gentle soul with a soft heart, boot camp at Parris Island proved to be a place he would prefer to soon forget. (Bucky was a masterful peace-maker, not a warrior.) Henceforth, he earned a psychology degree in 1967 from the University of Arkansas/Fayetteville, and later acquired a masters degree from UALR.
He was proud to live and serve for two years in Korea as a managing director for the USO. Many great stories emerged from his colorful life abroad. Moving back home to Arkansas in the mid-1980s, he grew a real estate appraisal career which was quite successful, and served him well for many years. However, his love of travel and adventurous opportunities made his "final stop" complete in Columbia, South America.
All in all, Bucky cherished his friends, his family, and the opportunity to live his life as he saw it. "Truly," as one friend proclaimed, "he was a heck of a guy!"
AMEN!
Published September 21, 2014