Rubye Pearl Ferguson Spencer
Monticello, AR, 1922 - 2012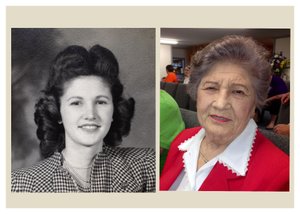 Rubye Pearl Ferguson Spencer, age 91, of Monticello, passed away Thursday, Sept. 25, 2014, at her home near Ladelle, surrounded by her loving family. She was born Oct. 10, 1922, in Ladelle, to the late Brown Willie and Mary Lutheria Lee Ferguson.
Rubye was the wife of Terrel Ford Spencer Jr. She was active in the family-owned Otasco Store in Warren, and played a supporting role in her husband's timber and cattle business. She had an appreciation for beauty and was well-known for her love of antiques, and her decorating skills. However, her proudest accomplishment was her role as loving wife and homemaker; her greatest joy was being a grandmother and great-grandmother.
She and her husband were long-time members of First Baptist Church in Monticello before moving their membership to Ladelle Baptist Church in their later years.
Preceding her in death was her loving husband of 65 years, Terrel Ford Spencer Jr.; her beloved son, Terrel Ford Spencer III; a brother, Cecil W. "Buck" Ferguson; and a sister, Lena Ferguson Jeffers.
Survivors include her daughter, Sarah Alice Spencer of Monticello; three granddaughters, Karen Denise Kolb-Spencer of Monticello, Susan Denise Spencer of Lake Geneva, Wis., and Rebecca Lee Spencer Schultz and husband Christopher of Waukesha, Wis.; three great-grandchildren, Matthew Ford Spencer of Monticello, Lilian Mary Grace Schultz and Zachary Spencer Schultz both of Waukesha, Wis.; one brother, Brown W. Ferguson and wife Clara of Lonoke; one sister, Beatrice Foster of Somerville, Tenn.; a daughter-in-law, Mary Anne Kulp Spencer of Williams Bay, Wis.; a brother-in-law, Edgar Winston Spencer and his wife Elizabeth, of Virginia, and their daughters.
Funeral Service will be 2 p.m. Monday, Sept. 29, 2014 at Stephenson Dearman Funeral Chapel with Rev. Larry Wilkerson and Rev. Kenny Martin officiating.
Pallbearers will be Matthew Spencer, Ray Ferguson, Ricky Carpenter, Ryan McRae, David Booth and Mike McManus.
Burial will be in Oakland Cemetery in Monticello.
Visitation will be 6-8 p.m. Sunday at Stephenson Dearman Funeral Home. In lieu of flowers, memorials may be made to the Arkansas Baptist Home for Children in Monticello, P O Box 427, Monticello, Ark. 71657 or Heifer International, 1 World Ave., Little Rock, Ark. 72202-2863.
The family would like to thank everyone for their prayers and support, with a special thank you to Arkansas Hospice for the excellent assistance they provided in her care.
Please visit the online guestbook at www.stephensondearman.com.
Published September 28, 2014
OBITUARY SUBMITTED BY:
Stephenson-Dearman
P O Box 506, Monticello, AR
Find it at: Hwy 425 N.
E-mail: sdearman@ccc-cable.net
Phone: 870-367-2451
http://www.stephensondearman.com/