William Franklin (Frank) Staggs Sr.
Dallas, TX, 1937 - 2014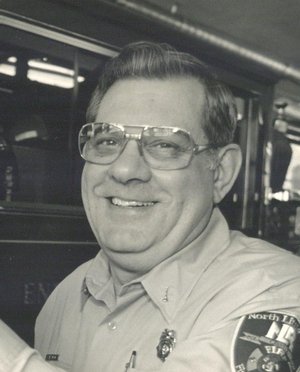 William Franklin (Frank) Staggs Sr., 77, passed peacefully from his family and friends Sept. 20, 2014 in his home in Dallas, Texas. He is survived by his loving wife of 54 years, Billie Staggs; his son, Bucky Staggs; his sister, Sarah Kingsley of Lake Charles, La.; nephews, Tony Kingsley, Jerry Kingsley, Bill Kingsley, Eddie Kingsley and Sam Kingsley, their beloved wives and grandnieces and grandnephews. Frank is also survived by his beloved family friend and "adopted" son, Randy Roberts of Dallas, as well as his many fire fighter brothers and sisters from North Little Rock, Ark.
Frank was a man who enjoyed life to its fullest. Passionately devoted to his family and friends, "Big Daddy," as he was known in the fire station, always had a big smile and a desire to help anyone in need. He loved all sports from horse racing to football, especially the Arkansas Razorbacks and the Dallas Cowboys.
Frank was at his greatest in his role as a fire fighter. He loved serving his community; he loved his brothers and sisters in fire fighting and he loved driving the big red fire truck, often at break-neck speeds!
After his retirement, Frank and Billie relocated to Dallas, where he continued to serve others, delivering infusion medications to patients in their homes. Patient satisfaction surveys always mentioned how special Frank had been to the patients he served. He not only delivered their medications, but always took time to get to know the patients and their families, offering support and again, a big smile.
While Frank will be greatly missed by everyone who knew him, we are all the more fortunate to have known his warm and loving spirit. In lieu of flowers, Frank requests that you go out and do something nice and helpful for someone! Pay it forward and always with a big smile!
Published September 28, 2014