Albert Jefferson Hanson Jr.
of North Little Rock, AR, 1930 - 2017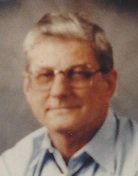 Albert Jefferson (AJ) Hanson Jr. passed away on August 2, 2017, following a sudden illness. AJ was born to Albert, Sr. and Lola Phillips Hanson on October 11, 1930, in Little Rock, Arkansas. He graduated in 1948 from NLRHS and remained an active participant with the high school alumni. Later, as an Army Serviceman, AJ proudly and honorably served his country during the Korean Conflict.
Upon discharge from the military, AJ began a career in the automotive industry with Fisher Auto Body in Michigan. However, the pull of the railroad brought him and his family back to Arkansas where he began a long career, first with the Missouri Pacific, then, in 1971, with The Alaska Railroad. While with the Missouri Pacific, AJ served as an assistant chairman and local chairman for the Brotherhood of Locomotive Firemen and Enginemen Lodge #304. AJ retired from The Alaska Railroad in 1977. While employed with the State of Alaska as an arbitration and labor relations administrator, he was a key member of the transition team transferring the federally owned railroad to the new state-owned system. Later, as the personnel officer for the Department of Environmental Conservation, he was responsible for coordinating efforts with Exxon to facilitate the cleanup of the Exxon Valdez oil spill. He retired from the State of Alaska in 1990.
In 1989, AJ was appointed as a senior arbitrator by the Council of Better Business Bureau's National Consumer Arbitration Program, and he participated in numerous cases and decisions. Since returning to NLR, AJ continued his public service, and volunteered at the Patrick Henry Hays Senior Center, and has helped many other veterans.
He was a member of Big Rock Masonic Lodge #633 of NLR, and both a charter member and founding member of the Al Aska Shrine Temple and the Polar Court 182 ROJ in Anchorage, Alaska. He was awarded the Knights Commander of the Court Honor Award by the Alaska Scottish Rite, and went on to receive the Inspectors General Honorary 33rd Degree by the Valley of Little Rock Consistory.
During his earlier years, AJ was an expert marksman with the Arkansas High Power Rifle Team, the Central Arkansas Gun Club and the Arkansas Rifle and Pistol Association. He was a lifetime member of organizations such as the DAV, NRA, American Legion and Elks. He was an avid reader of history and spy novels.
AJ was preceded in death by his third wife, Joan Crawford Whisenhunt-Hanson; second wife, Pat Pegrim (Hanson); first wife, Lois Carter (Hanson); daughter, Leslie Hanson Simpson (Steve); sister, Dorothy Wood Jackson (Carl); half-brother, Thomas Wood. He is survived by sons, Steve (Deanna), Colorado; David, Tennessee; daughter, Patty, Nevada; step-daughter, Karen Yarmack (Hanson) Furbush, Washington; half-brother, Jess Wood (Bette), Little Rock; sister, Betty (BJ) Hoover, NLR; step-sons, John Whisenhunt (Anna), Michigan, Mark Whisenhunt, Texas, and James Whisenhunt, Texas. AJ had many grandchildren and great-grandchildren.
Visitation will begin at 10:30 a.m., Tuesday, August 8 at the First United Methodist Church in North Little Rock, followed by a service at 11:30 a.m. conducted by Reverend Steve Simpson. Interment will follow at the Arkansas State Veterans Cemetery in North Little Rock.
As a young trainman on the Missouri Pacific, AJ would signal to his family that he was home by blowing the train whistle as he passed through Levy. If you're quiet, you can once again hear the whistle blowing.
He's home. In lieu of flowers, AJ has requested that donations be made to Rite Care, The Scottish Rite Foundation, Arkansas Children's Hospital, or the First United Methodist Church.
Arrangements by Little Rock Funeral Home, 8801 Knoedl Ct., (501) 224-2200. AJ's online guestbook may be signed at www.littlerockfuneralhome.com.
Published August 4, 2017
OBITUARY SUBMITTED BY:
Little Rock Funeral Home
8801 Knoedl Ct., Little Rock, AR
Phone: 501-224-2200