Charles Fred Dearman Sr.
Monticello, AR, 1936 - 2017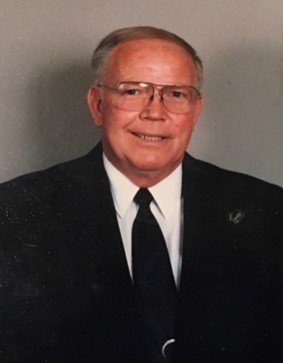 Charles Fred Dearman Sr., affectionately known as "Charlie Fred," passed away on Sunday, July 30, 2017 at Hospice Home Care in Little Rock, Arkansas, at the age of 81. Charlie was born in Warren, Arkansas, on April 2, 1936, to the late Fred Thomas Dearman and Edna Hunter Dearman. Charlie has been a predominant leader in business, civic, philanthropic and political causes in Monticello and Drew County for the better part of sixty years, and his devotion and love for his community will be missed by all that knew him.
Charlie's colorful life began on a dairy farm in Warren with his parents and three sisters. In addition to school, his daily life consisted of working on the farm in the mornings and evenings and practicing football in between. His work ethic, even at a young age, would prove to be the cornerstone of his success throughout his life. Although a multi-talented athlete, Charlie's athleticism was most illuminated on the football field. He played offensive guard, fullback and defensive nose guard in high school, being a two-time All-District and All-State selection.
Charlie graduated from Warren High School in 1954 and accepted a scholarship offer from the University of Arkansas at Monticello (formerly Arkansas A&M). Although Charlie received scholarship offers from Arkansas, LSU and Texas A&M, he chose to remain close to home. As a four-year starter, Charlie was the linchpin of Coach Convoy Leslie's football dynasty in the 1950s, playing both offensive guard and defensive nose guard. During his tenure playing for UAM, the Boll Weevils won three straight AIC championships, which earned Charlie a two-time All-AIC selection. Following his senior year, Charlie was named to both the NAIA and AP All-America teams, being the first player in any sport in UAM history to be selected to an All-American team. Although Charlie was drafted by the Chicago Bears, he instead chose a life of service to his community.
Charlie was inducted into the UAM Sports Hall of Fame in 2004, the Warren Lumberjacks Sports Hall in 2008 and, as a highlight of his life, the Arkansas Sports Hall of Fame in 2017. Although impressive, his athletic accomplishments would pale in comparison to the impact he had on the people in his community.
Following graduation, he married Laura Lee Stephenson, and they had two sons, Charles Fred Dearman, Jr. ("Chuck") and David Earl Dearman. Charlie attended the Dallas Institute of Mortuary Science, where he graduated in 1959. Upon graduation, he and Laura Lee moved to Monticello where Charlie worked for Stephenson Funeral Home, which was then owned by the Stephenson family. Charlie eventually had the opportunity to purchase the funeral home and later renamed it Stephenson-Dearman Funeral Home.
In addition to being a licensed embalmer and funeral director, Charlie was elected as the Drew County Sheriff for two terms and served as the Drew County Coroner for over 50 years, which is the longest tenure to-date of any Coroner in the State of Arkansas. Charlie was very involved in the funeral home industry both on a state and national level, serving as the former President of both the Arkansas Funeral Directors Association and the Southeast Arkansas Funeral Directors Association, the former Chairman of the Arkansas State Burial Board and the Arkansas State Board of Embalmers and Funeral Directors, and was the 1993 recipient of the Arkansas Funeral Director of the Year award. He served as the Arkansas Representative on the Policy Board of the National Funeral Directors Association and was the first Arkansas funeral director to serve in that role. He was also a longtime board member of Selected Funeral & Life Insurance Company, an Arkansas funeral insurance company that he was very dedicated to.
Equally to serving his industry, Charlie believed in serving his community. He was a longtime member of First United Methodist Church of Monticello having joined the church in 1958. He also was very active in the youth programs having coached Pee Wee football and Little League baseball for many years making lasting impacts on hundreds of kids. He is a former member of the Monticello School Board, the Monticello City Council and the Monticello Parks Commission. He also served as President of the Monticello/Drew County Chamber of Commerce and the Monticello Jaycees, having been selected by the Jaycees as one of Arkansas' Ten Outstanding Young Men.
Although Charlie had extraordinary success on the field and a commitment to his community that is unparalleled, most would say that his greatest accomplishment was his devotion to the families that walked through the doors of his funeral home. Charlie's ability to comfort grieving families on a daily basis is a unique gift possessed by very few; a quality that cannot be learned in a classroom. His compassion and genuine kindness were infinite, and his legacy will live on in his own family and in those families he faithfully served. Because of his life-long commitment to Stephenson-Dearman Funeral Home, Charlie took tremendous pride in watching his eldest son, Chuck assume the helm of the funeral home once Charlie's health declined. Chuck held it an honor and blessing to learn the industry from one of the best and work alongside his dad for over 30 years.
Finally, apart from the funeral home and his life of service, Charlie's greatest passions were hunting, fishing, watching his beloved football teams and spending time with his grandkids. As they were growing up, Charlie spent hours taking them hunting and telling them stories as they sat on his lap. Those of us that knew him knows that he was quite the animated story teller. An avid outdoorsman, he loved to hunt and fish but his greatest outdoor pleasure was listening to his coon dogs run. His heart was bigger than the combined length of all football fields on which he ever played, and his smile will forever be contagious. To know Charlie was to love him as he immediately captured your heart. As has often been said, all legends will die, but their spirit will live on in the hearts they touched.
After a lifetime of assisting thousands of families lay their loved ones to rest, Charles Fred Dearman will now be laid peacefully to rest. In addition to his parents, Charlie was also preceded in death by his granddaughter, Savannah Ashley Dearman and two sisters, Jonnie Elle Dearman Cooper and Pearl Dearman McKenzie; and a niece, Beth Stephenson.
Charlie's family is forever grateful to God for the bonus years they had with him, and his heart will live in them forever. Charlie is survived by his wife, Laura Lee Stephenson Dearman of Monticello; two sons, Charles Fred "Chuck" Dearman, Jr. and wife Cindy Eubanks Dearman of Monticello and David Earl Dearman of Little Rock; his grandchildren, Charles Fred "Chad" Dearman, III of Little Rock, Haley Diane Dearman of New Orleans and Alexandra Nicole Dearman of Nashville, Tenn.; his sister, Mary Dearman Heffner and husband Tom of Cabot; a brothers-in-law, Gary Cooper of Warren, Ray Stephenson and wife Pam of Monticello and Raoul Stephenson and wife Martha; sister-in-law, Susan Stephenson Smith of Little Rock; nephews, Tommy Heffner, Jim Cooper, Brian Smith and Bobby Stephenson; nieces, Cindy Cooper, Chris Reighard and Ashley Vestal; and the Stephenson-Dearman Funeral Home Family.
The family would like to issue a special "thank you" to the owners and wonderful staff at Monticello Grand Manor Assisted Living, who filled the last years of Charlie's life with joy, laughter and wonderful care. The family would also like to extend their appreciation to the staff at Bowman Road Hospice Home Care for the care and kindness they provided Charlie in his final days.
Visitation will be from 6 p.m. to 8 p.m. Saturday evening, August 5, 2017 at Stephenson-Dearman Funeral Home. Funeral services will be 2 p.m. Sunday, August 6, 2017 also at Stephenson-Dearman Funeral Home Chapel with interment immediately following at Oakland Cemetery in Monticello. Memorials in Charlie's honor may be made to the Charles F. Dearman Scholarship Fund at UAM, P.O. Box 3520 Monticello, Ark. 71656 or the First United Methodist Church, 317 S. Main Monticello, AR 71655. Arrangements provided by Stephenson-Dearman Funeral Home. Guestbook and online condolences may be left at www.stephensondearman.com.
Published August 5, 2017
OBITUARY SUBMITTED BY:
Stephenson-Dearman
P O Box 506, Monticello, AR
Find it at: Hwy 425 N.
E-mail: sdearman@ccc-cable.net
Phone: 870-367-2451
http://www.stephensondearman.com/