Naomi Ellen (Smitty) Herndon
Bedford, TX, 1916 - 2017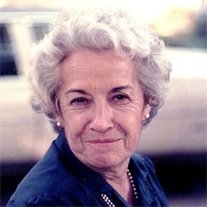 Naomi Ellen (Smitty) Herndon passed away peacefully in Bedford, Texas on July 29, 2017. She lived in Falls Church, Va., for 53 years before moving to Parc Place Retirement in Bedford for nine years. She married Col. Robert (Bob) E Herndon Jr. on Nov. 8, 1941.
Smitty is survived by her four children: Robert E Herndon III, Judith A Atwood, Karen Morschheimer Graddy, James E Herndon, and a loving family of seven grandchildren, and 11 great-grandchildren. She will be interned at Arlington National Cemetery, Washington, DC alongside her husband in Fall of 1917.
Smitty was born in Salt Lake City on Nov. 8, 1916 to Clarence and Bertha Smith. She grew up in Little Rock, Ark., earned Business degree, worked as a secretary, and earned her private pilot's license. Later she worked at Washington Law Reporter.
As a Commander's wife, Smitty handled many responsibilities of social functions, receptions, and fund raisers, and was an active leader in Cub Scouts, Boy Scouts, Campfire Girls and Bluebirds plus school activities.
Smitty was creative in many ways: furniture upholstery, ceramics, china painting, lapidary, gardening, and canning. She was a self-taught genealogist, tracing family history to the 1600's. She and Bob extensively traveled the US and world. The Rotary Club of Falls Church awarded her with an honorary Rotary membership and a Paul Harris Fellowship.
Published August 6, 2017