Joe Myron Kirksey
Fort Smith, AR, 1929 - 2017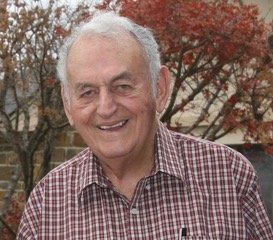 Joe Myron Kirksey of Fort Smith, Arkansas passed away Saturday, August 26, 2017 in Fort Smith, Arkansas at the age of 88. He was born February 22, 1929, in Mulberry, Arkansas, the youngest son of Dr. O.J. and Blanche Cruger Kirksey. He was a nationally-recognized and influential agricultural and community leader, leaving an enduring legacy through his family, farm and every person he touched through the many organizations he faithfully served.
Joe attended 1st through 12th grade in Mulberry, graduating from Mulberry High School in 1946. He received a B.S. in Chemistry and Biology from Ouachita Baptist University in 1951. After completing one year of medical school, Joe made the hard decision to break a long family line of medical doctors to pursue his passion and calling in agriculture.
In 1953 Joe began his career as a first generation farmer, raising soybeans, wheat, cattle and hay. He began on a small scale but grew his Mulberry operation to the point of managing 2,200 acres of soybeans and wheat along with 1,200 acres of pasture and cattle.
Over the course of his fifty-four year career, Joe received many awards and nominations to posts serving various state and national agricultural boards, including the Arkansas Soybean Association (past Vice president and President), American Soybean Association (executive board, Vice president, declined nomination to serve as President), United Soybean Board (charter member appointed by the Secretary of Agriculture), American Soybean Association Development, and the Arkansas Soybean Promotion Boards (past Vice President and President), among many others.
In recognition of Joe's dedication to agricultural advancements in Arkansas and leadership in the soybean industry, in 2012 the University of Arkansas' System Division of Agriculture named their edamame variety of soybean the "UA Kirksey Edamame." This is the first edamame vegetable soybean variety developed in the United States and licensed for commercial production.
Even while growing his farming operation and prominence in agriculture, Joe was an active leader in Mulberry, influencing nearly every aspect of civic life in the community.
He is a member of the Mulberry Lions Club (past President), he served on the Mulberry School Board (15 years, Secretary and President), Board of Directors, Bank of Mulberry (now Today's Bank, 18 years), US Bank Board of Directors, Crawford County Hospital Board of Trustees (past President), Crawford County Fair Association (past President), and the Mulberry City Council (12 years). He was the first president of the Arkansas Valley Technical Institute in Ozark. Joe was also a lifelong member of the Mulberry United Methodist Church and served on the Board of Trustees.
Joe embodied the best of Arkansas and small-town America, building his career through a tireless work ethic and achieving national prominence, yet remaining firmly connected to his community as a vital part of its social fabric. But even more than his professional and community achievements, Joe's legacy is most clear through his family.
In 1955 Joe married Chloe Alline Hardie of Fort Smith. Together they raised three children, and he was "Papa Joe" to eight grandchildren and four great-grandchildren. After living, working and serving in Mulberry for 57 years, Joe and Chloe retired to Fort Smith, where they remained active with their family, in their church, and in many community organizations.
Joe is preceded in death by his parents, Dr. and Mrs. O.J. Kirksey, brother, Ozell Kirksey, and sister, Dr. Avanelle Kirksey. He is survived by his wife of 62 years, Chloe Kirksey; one son, Myron (Teresa) Kirksey; two daughters, Marcia (Tim) Wise and Monica (Thad) Freeland; five grandsons, Ben (Rachel) and Mason (Eva) Kirksey, Andrew and Joshua Wise, and Allen Freeland; three granddaughters, Alexandra Wise (Tommy Ehlers), Kelsey Freeland, and Audra (Anthony) Kuykendall; and four great-grandsons and daughters, Rhett, Jude and Lauren Kirksey, and Bentley Kuykendall.
The family will visit with friends Tuesday evening the 29th of August from 5-7 p.m. at the Edwards Funeral Home Chapel in Ft. Smith. The funeral service will be in the Mulberry United Methodist Church at 10 a.m. Wednesday the 30th of August under the direction Edwards Funeral Home and officiated by Pastor Phil Costner, Andrew Wise and Ben Kirksey.
Pallbearers will be grandsons Ben Kirksey, Mason Kirksey, Andrew Wise, Josh Wise, Allen Freeland, and Tommy Elhers. Memorials may be made to the Mulberry Methodist Church, P.O. Box 251, Mulberry, AR, 72947 or The Kirksey Family Endowment for the Kirksey Maternity Hospital, c/o Arkansas Community Foundation, 1400 West Markham, Suite 206, Little Rock, Ark. 72201, or online at arcf.org. To send an online tribute, go to www.edwardsfuneralhome.com.
Published August 29, 2017
OBITUARY SUBMITTED BY:
Edwards Funeral Home
PO box 3, Fort Smith, AR
E-mail: edwardsfh@yahoo.com
Phone: 479-782-8203