Josh Beckham Jr.
Fairfield Bay, AR, 1930 - 2017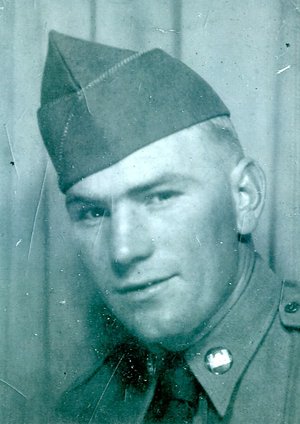 Josh Beckham Jr., of Fairfield Bay, Arkansas previously of Vestal, N.Y., passed peacefully at home on August 25, 2017 at the age of 87 surrounded by his sons.
Josh was born on August 23, 1930 to Joshua and Anne Beckham in Shirley, Arkansas. He was born into the Great Depression, the youngest of even children, and the last surviving member of that generation. He is predeceased by an older brother Tommy (died in infancy), Oma, Ina, Allen, Richard, Nimuel, and Ella.
As a young boy he grew up helping his Father sharecrop parcels of land around the Shirley area. In high-school, Josh was voted captain of the Shirley basketball team. In the late 1940's, he was offered a job with his brother Nimuel in Massachusetts with the Socony Oil and Vacuum Company, a pre-cursor to the Mobil Pipeline Company, the company he would work for until his retirement. The title for his first job was "Roustabout", which Dad would say translated to ditch-digger.
In 1952 he was called to serve the Army in Korea. As a member of the 822nd Engineer Aviation Battalion as a heavy equipment operator, he helped construct many of the forward air bases used to fight the North Korean army. Many of those air bases are still in use today.
Upon returning home after his service, his pipeline crew relocated to the place he would spend the majority of his life, the town of Vestal, New York.
He met the love of his life in February 1954 and they were married in October 1954 and raised two sons - Terry Beckham and Josh Beckham.
Josh worked for the Mobil Pipeline Company for 37 years, working his way up from pipe-liner, to gang pusher, to construction foreman. His work ethic and professionalism allowed him to be called upon for major Mobil Oil projects involving important extensions of the Mobil pipeline systems in Irwin, Pa., Seattle, Wash., Mobile, Ala. and the trans-Saudi pipeline in Saudi Arabia that stretched across the Saudi peninsula.
He was an avid sports fan all of his life, especially collegiate basketball and football. Josh was also a race fan, a NY Yankee fan, and enjoyed family trips to Florida for spring training baseball. He loved life and loved to travel with his wife (especially Hawaii and Germany) to visit family and friends.
A devoted and loving husband, compassionate, caring, wise and loving father, uncle, great-uncle, grandfather, great-grandfather, and a loyal, strong, genuine, honest, caring and fun soul to his friends and acquaintances.
After a series of challenges and brave battle, he passed from us to find peace and be reunited with his wife, Mary, who left him in September of 2015.
He is survived by son Terry and wife Francesca, son Josh, six grandchildren (Derek and wife Kristi, Erika, Alaina, Nate, Janise, Josephine) and three great-grandchildren (Blaise, Lucas, and Everett), many "favorite" nieces and nephews, great-nieces and nephews who all lovingly called him "Uncle Junior" or Uncle Josh.
He once told his sons that when his days were done, he would like to simply be remembered as an honest man. He was much more than that.
A memorial visitation will be held in his honor from 4 p.m. – 7 p.m. on Tuesday, August 29, 2017 at the Roller-McNutt Funeral Home in Clinton, Arkansas. Funeral Services and interment are in the care of Allen Funeral Home in Endicott, New York. For online guestbook, www.rollerfuneralhomes.com/clinton.
Published August 29, 2017
OBITUARY SUBMITTED BY:
Roller-McNutt Funeral Home
Highway 65 South, P.O. Box 177, Clinton, AR
Phone: 501-745-2151