Elma Marie Griffis Zoellner
Alexander, AR, 1937 - 2017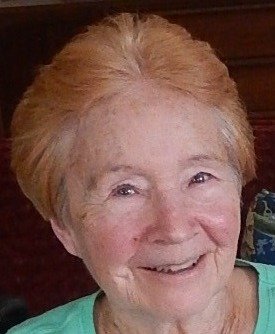 Elma Marie Griffis Zoellner, age 80, of Alexander, Ark., died June 7, 2017 at her home, from complications with Lewy body dementia. She was born near Detonti, Ark., to Herbert Griffis and Blanche Blacklock Griffis on March 19, 1937. She was a graduate of Bryant High School where she participated in the school's basketball team. She also played softball at Lamar Porter Field as well as playing and coaching girls softball teams in the Washington D. C. area.
Marie was employed by MFA Insurance Company in Little Rock, Ark., before marrying the love of her life, Alan Zoellner, on June 10, 1956. (Ask Alan about the "valve cap" story as to how he got Marie's attention at a movie theatre before they began dating.) Shortly after they married, Alan was drafted into the Army and was transfer to the Washington D.C. area where they remained for the next 40 years. She retired from Gershman Brickner & Bratton, a major firm in Alexandria Virginia, where she held various positions of increasing responsibilities including office manager and later HRS manager. One of her jobs was in the Pentagon that she always looked back on as a great experience.
Marie was an accomplished oil painter creating beautifully framed paintings that fill their home. She had the most amazing flower gardens, which produced a bountiful collection of flowers used to create stunning arrangements for friends, coworkers, and neighbors as well as to adorn their home. The vases used were simple found objects that pulled the arrangements together in a unique manner. Oh, we cannot forget about all of the Christmas cookies and cakes she baked to the delight of all. There was always a large jar of fresh baked chocolate chip cookies on hand for Alan and guests. Marie especially enjoyed antiquing along with their weekly treasure hunts at yard sales. The car would automatically brake for a garage sale sign on the side of the road. These hunts had no boundaries and included Canada, most of the east coast, and all points west to include Hawaii. Oil lamps and ugly jewelry were her specialty. To her siblings she was our second Mother and a sounding board and fixer for her entire family.
Marie was preceded in death by her parents; sisters-in-law, Maxine (James) Griffis and Glenna (Al) Griffis; brother-in-law, Tim Zoellner. She is survived by three brothers, James, Marion (Al), and Phillip Griffis; two sisters, Betty Louise Ellison and Christine Crawford (Patrick); brother-in-law, Russell Zoellner (Marilyn), two sisters-in-laws, Tod (Ron) Noteboom, Bertha (Tim) Zoellner, numerous nephews and nieces.
We would like to thank the wonderful caregivers that helped with Marie's care in the last few years of her illness including our cousin, Mary Abbott, Sue Roberts, Jean Nowlin, Carolin Cullins, and Nelda Herring. We also wish to thank Support Groups Oaklawn Center on Aging Hot Springs Village, Benton Parkinson's support group, and Arkansas Hospice Care, Inc.
Visitation/ Reception, Tuesday, June 13 from noon-2 p.m. with Memorial service following at Smith- Benton Funeral Home. Online guestbook: www.SmithFamilyCares.com.
Published June 11, 2017
OBITUARY SUBMITTED BY:
Smith-Benton Funeral Home
322 N. Market St., Benton, AR
E-mail: benton@smithfamilycares.com
Phone: 501-778-7100
http://www.SmithFamilyCares.com/