James H. (Jim) Hagler
Edgemont, AR, 1921 - 2017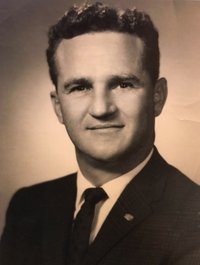 James H. (Jim) Hagler of Edgemont, Ark., passed away peacefully in his home on June 8, 2017. He was 96 years old.
Jim was a beloved husband, father, grandfather and great-grandfather.
He was born in Stephenville, Texas on April 26 1921. One of five children raised by Roy E. and Ruby Hagler, who have all preceded him in death.
Jim is survived by his loving wife Polly Hagler of 73 years. One daughter Linda Jean Keefe, three grandchildren and four great-grandchildren. Jon C Keefe and fiancée Rachel Mosher, daughters Chloe and Willow of Madison Wis. James Brandon Keefe of Newport Beach, Calif. Dr. Kristy M. Keefe and her husband Johnathan Hammersley. Their children Eva and Jonathan of Macomb, Ill. As well as many friends.
While in the Armed Forces in World War II, he served in the 82nd Air Borne Div. 505 REGT, under Commander Gen James Gavin. Jim served in Africa as well as Italy at the invasion of Sicily. On June 6, 1944, he pulled out of Italy for the invasion of Normandy France where he was wounded at St Mere Elise.
Jim will be missed by many who knew him as a wonderful friend and extraordinary man. His generosity and kindness to all as well as his absolute joy for living and devotion to his family will be his legacy.
Services will be held on Tuesday, June 13 2017 at 3 p.m. at Peace Lutheran Church, 10849 Edgemont Rd. Edgemont, Ark. 72044; ph#(501) 723-4726.
Please share your messages of love, comfort and support with the family at www.griffinleggetthealeyroth.com.
A Bit O' Bio:
Jim and his wife Polly with their daughter Linda, "The Miracle Girl". As well as Linda's three children plus four great-grandchildren round out the Hagler clan.
In January 1942, Jim joined the Army and trained to become a paratrooper. He made three "war jumps"…the first landing in Sicily. While in North Africa Jim celebrated his 21st birthday in Casablanca! The second jump landed him in Italy, where we were fighting under General Patton's command. His final jump was during the D-Day invasion at Normand, where he was shot and severely wounded when he landed with comrades seven miles behind the German lines. This earned him a well-deserved Purple Heart. While in a full body cast, he was shipped home aboard the Queen Mary. Also on board were Fred Astaire, who danced down the aisle, and an inebriated Bing Crosby who signed his cast.
In 1945, Jim spied Polly sitting with her friends and swept her off her feet, marrying her Oct. 11 of that year. With his eye on getting a degree, Jim attended Texas Christian University for three years while working odd shifts. Jim's uncle made Southern California sound alluring, so the Haglers moved to the San Diego area with thoughts of Jim finishing school there. Jim found work with the Civil Service on Coronado Island. In 1946, they moved to Portland, Ore., where Jim discovered selling farm machinery was a good field for him. He was a natural born salesman! But by 1950 their families in Ft. Worth were an irresistible draw. That's where their "Miracle Girl" Linda was born.
Jim worked as a supervisor for a company that manufactured corrugated containers. The owner became Jim's role model! In 1957, Jim was sent to manage the company's plant in Arkansas. The entire company was sold in 1966. Jim decided to take a big leap of faith and brand out on his own…and the Arkansas Container Corporation was founded! He built this company from the ground up starting with three employees. It was so successful that before he sold the company in 1989 with over 150 employees, it ranked, third on the list of Best Small Business in America! The honor was presented by then Gov. David Pryor. Jim was also on a first name basis with Gov. Bill Clinton at the time, supporting small business efforts in Arkansas. At last, Jim often said, "I knew when to get into and out of a business." and had sold his business to start his next chapter.
In retirement, the Haglers traveled the continent yearly in the Prevo motor home from October thru March 7 (Polly's birthday). Their home base was in Greers Ferry. In 1992, they sold the motor home. Jim then needed something to do; so, he bought a farm in the Pryor Mountain area of Hwy 16. There he was content raising prize-winning barrel-racing horses and Charolais, Longhorn, and Angus cows; hunting turkeys; building fences and driving tractors. In 2006, a damaged retina in Jim's right eye put a sudden end to his improving and managing the farm. Although they researched moving elsewhere, Polly favored the Greers Ferry area. Their current residence on Valhalla Drive has views of Greers Ferry Lake from many rooms in their home. A "secret room" in the house and a tree house on the property are delights for the youngsters.
Jim offers these bits of wisdom from his last 96 years: "Eight years ago doctors discovered "cigarette cancer" in me. I volunteered for the service in the Army. If the government hadn't had cigarettes stashed in with our government-provided food, I never would have taken up smoking! And he adds…" You can't gradually give up anything! Like, to quit smoking, just go cold turkey!" Jim lived an incredible life, majority of it with his wife Polly, of over 70 years. He was an example to us all of how to live life to its fullest, exhibiting passion and commitment to the moment he was in, which is expressed in each stage of his life. He was a warrior through and through, with skill and courage that was unmatched. He will be missed dearly, but his legacy will live on within his family and friends. Jim, thank you for jumping, not just out of planes to fight but making the jumps in life that have impacted us all. May you rest in peace knowing you are beloved and adored by many.
Published June 11, 2017
OBITUARY SUBMITTED BY:
Griffin Leggett Healey & Roth
5800 West 12th Street, Little Rock, AR
Phone: 501-661-9111