Melody Blair Ernst
of Maumelle, AR, 1963 - 2017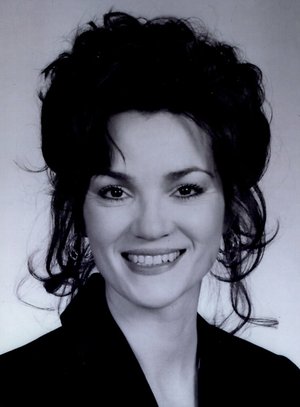 MELODY BLAIR ERNST, 54, Maumelle, Arkansas. Inflammatory Breast Cancer might have taken her body early Saturday morning but it certainly did not take her soul, spirit or love. Born May 29, 1963 in Oklahoma City, she had many wonderful times there with her sisters and cousins before moving to Mountain Home, Arkansas in the 8th grade to live with her grandparents, Melton and Rachel Beavers. As a Bomber she starred on the dance team that traveled the state winning many awards. In 1981 she attended the University of Arkansas where she met her lifelong friend Dayna (Ryles) McGuire at Pomfret Hall and shortly thereafter her future husband at the Gazebo Club-where they danced the night away. After a year at college Melody moved back to Mountain Home and got her cosmetologist license and became a hair stylist. The separation proved too much for Brent to bare and so on a visit to Fayetteville (January 18,1983) to celebrated Brent's grandparent's 50th wedding anniversary at the Hilton on the square he popped the question in the elevator and she said yes! They wed on June 23, 1984 and settled in Fayetteville where she was a hair stylist and Brent worked to finish his degree at the U of A-finally! She followed Brent in his career in the paint business to Baton Rouge, Louisiana-where she managed a hair salon at JC Penney's-then to Houma, Louisiana-where she got her cosmetology instructor's license-the back to Baton Rouge where she was an instructor at Lockworks. In January of 1990, they found out that not only was Brent being transferred back to Fayetteville but Melody was pregnant! On September 22, 1990 the joy of their lives came into the world- Megan Elaine Ernst. As a working mom, Melody made the decision to go back to school and get her teaching degree. She flourished as a non-traditional student and graduated with honors from the University of Arkansas in May of 1995. She went on to teach elementary school in Bentonville and Elkins before her husband once again uprooted her to Central Arkansas where they settled in Maumelle. After a semester at the Anthony School, she went to work for the Little Rock School District (Washington Magnet, Fulbright, Geyer Springs, and Roberts Elementary schools) where she finished her teaching career. She cherished and loved her students and they unanimously and overwhelmingly loved her. We have volume of albums with pictures and notes and drawings from her students over the years. She made a lot of lifelong friends on her life journey. Along with Dayna McGuire (who married a fellow Bomber-Tim) she developed a wonderful and fun relationship with a group of "girls" in Maumelle whose company she cherished. Tommi Blevins, Shellie Moore, Julie Pierce, Jana Chiolino, Stephanie Grooms, Sarah Cain, Kimberly Jenkins, Wendy Bass, Kara Baumgartner and Peggy Carson all made her life so much richer and definitely funner! Melody was the most photogenic person of all time. She was notorious for editing any picture ever taken of her-when she really didn't have to worry about it. Melody did everything on her own terms-she lived and loved life her way.
Left to cherish her wonderful memory is her lucky husband, Brent, her loving daughter, Megan, sisters, Geni Strouse (Chris), Mandy Green (Mike), and Robyn Blair (Patti Jo), brother, Kevin Ray (Twana), parents, Jim and Sandy Blair and Becky and Jim Marcum, mother and father-in-law, Fred and Sarah Ernst, brother-in-law, Blair and his wife Sarah, four nieces, seven nephews, several cousins, best friend Dayna and a world full of friends and Smokey.
The family would like to thank the remarkable people at the Cancer Treatment Center of America in Newnan, Georgia. Dr. Ricardo Alvarez did a great job as her medical oncologists. And very special thanks to the people at Baptist Hospital-especially the 9th floor team.
And a very special thanks to her cousin Joe Tom Fisher of San Antonio who came up to help and visit with her at the hospital her last two days. Sharing childhood memories from Oklahoma City when they were growing up comforted her more than any drug ever could.
In lieu of flowers, the family would like a donation to the Inflammatory Breast Cancer Research Foundation in honor of Melody. A Celebration of Life will be held Saturday June 24, 2017 at 12 noon at First United Methodist Church in Maumelle, Ark. Online Guestbook available at www.rollerfuneralhomes.com/conway.
Published June 20, 2017
OBITUARY SUBMITTED BY:
Roller-McNutt Funeral Home
801 8th Avenue, P.O. Box 249, Conway, AR
Phone: 501-327-7727
http://www.rollerfuneralhomes.com