Edryl Lyle Wilson
Center Ridge, AR, 1932 - 2019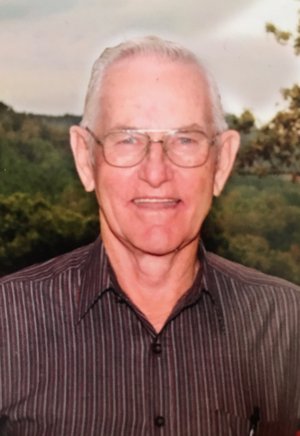 Edryl "Lyle" Wilson of Center Ridge, was welcomed by Our Lord on April 5, 2019 with the words, "Well done thou good and faithful servant". He was born June 2, 1932 on Woolverton Mountain in Center Ridge, Ark. to Syble Holloway Wilson and Robert "Bob" Wilson. He was of the Missionary Baptist faith and was retired from Acxiom Corp. in Conway.
Lyle is survived by his loving wife of sixty-three years, Bennie Catherine Wilson; daughter Sheila Beck and her husband Rick Beck; grandchildren Austin Beck and Madison Beck, all of Center Ridge. Mr. Wilson is also survived by his brother Floyd Guiling of Clarksville, Ark., three nieces and a nephew. Lyle was preceded in death by his parents, his sister, Carolyn Wilson Adcock, granddaughter, Anna Beck, father-in-law, Marvin Flowers and mother-in-law, Lela Flowers.
Corporal Lyle Wilson received an honorable discharge from the United States Army January 25, 1955 and then served ten years in the active reserves. He was an avid hunter and fisherman and many nights were spent with his hunting buddy, Doyle Shipp, chasing raccoons in northern Conway County. Not many people can say that their hunts often ended with a cold drink of milk from Mr. Clifton Clower's milk jug that he kept cool in the creek before tying up the dogs outside of the church on Woolverton Mountain for service.
Lyle was saved and baptized the summer of 1945, at Mountain View Baptist Church on Woolverton Mountain where he later was ordained deacon on the fourth Sunday of June, 1950. Lyle served as deacon and Sunday School teacher at Mountain View and later at Pleasant Springs Missionary Baptist Church, Birdtown. He served the Lord in these capacities for the majority of his life and had an abiding love for Christ that he enjoyed sharing with everyone he met.
Lyle's life will be celebrated at 2:30 p.m. Saturday, April 6, 2019 at Harris Chapel, with Bro. Doyle Glass officiating. Visitation will be held an hour before the service at 1:30 p.m. Burial will be at Pleasant Hill Cemetery in Center Ridge by Harris Funeral Home of Morrilton. Pallbearers are Lonnie Flowers, John Busby, Craig Jones, Rick Beck, Austin Beck and Ronnie Hill. Honorary pallbearers are the Pleasant Springs Men's Sunday School Class, Bill Hill, Don Flowers, Randy Stell and Todd Hoyt.
In lieu of flowers, donations can be made in honor of Lyle Wilson to: Pleasant Springs Missionary Baptist Church, 85 Pleasant Springs Drive, Springfield, Ark. 72157; The Conway County Center for Exceptional Children, Morrilton, Ark., 72110; Easterseals Arkansas Children's Rehabilitation Center, 3818 Woodland Heights Road, Little Rock, Ark. or the charity of your choice. The family wishes to extend appreciation and special thanks to Brookridge Cove Rehabilitation and Nursing Center, Arkansas Hospice (Conway), Dr. Peter Post and Lora Hartsell for taking such great care of our loved one during his last days. Online Guestbook: www.harrisfuneralhomes.net.
Published April 6, 2019
OBITUARY SUBMITTED BY:
Harris Funeral Home, Inc.
118 South Moose Street, P.O. Box 439, Morrilton, AR
Phone: 501-354-4575
http://www.harrisfuneralhomes.net/