Gene D Hornbeck
of Little Rock, AR, 1927 - 2019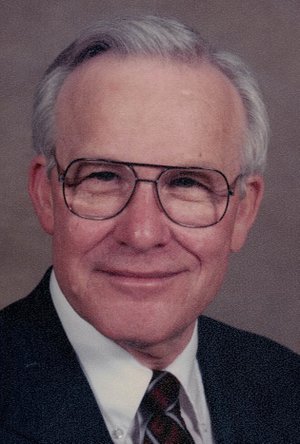 Gene D. Hornbeck, 91, of Little Rock passed away August 7, 2019. He was born in Nara Visa, New Mexico on October 16, 1927, the son of Guy and Ada Strubinger Hornbeck. He was retired after 35 years as a manager of the Criminal Investigation Division of the Internal Revenue Service. He was an honor graduate of Deming, New Mexico High School and graduated from the University of New Mexico with a degree in accounting.
Following a tour of duty with the U.S. Navy, he moved to Little Rock to begin his career with the IRS where he met and married his wife, Maeline Dutton. They celebrated 62 years of marriage together. He was a gentle, quiet, unassuming man with a strong faith and work ethic. He was a faithful member of Second Baptist Church serving as a deacon and a member of various committees in the church. In addition, he served as the interim administrator of the church for a period of time. After retirement from the IRS, he served as the Administrator of the Albert Pike Residence Hotel for several years.
He was preceded in death by his beloved son, Dale; his parents; two brothers, Russell and Bob Hornbeck; a sister, Betty Lou Emerson. He is survived by his wife, Maeline; granddaughters Haley and Hannah Grace Hornbeck, their mother Terri; nephews Tyler (Paula) Dutton and Shane Dutton; and nieces, Heather Murski (Matt) and Anna Dutton.
The funeral service will be Saturday, August 10, 2019 at 11 a.m. at Second Baptist Church in downtown Little Rock. At 10 a.m. preceding the funeral service, there will be a time for visitation with the family. Burial will be in Roselawn Cemetery.
The family requests memorials be made to Second Baptist Church, 222 East 8th, Little Rock, Ark. 72202 or to the charity of your choice. Arrangements are under the direction of Ruebel Funeral Home, www.ruebelfuneralhome.com.
Published August 9, 2019
OBITUARY SUBMITTED BY:
Ruebel Funeral Home
6313 West Markham Street, Little Rock, AR
Phone: 501-666-0123
http://www.ruebelfuneralhome.com