A. Robert "Bob" Fortney
of North Little Rock, AR, 1921 - 2019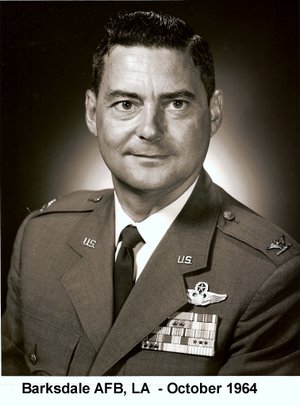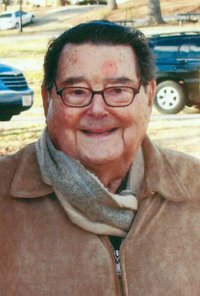 A. Robert "Bob" Fortney, Colonel USAF, Ret, age 98, died December 9, 2019. He was born May 23, 1921 in Canton, Ohio, the only child of Grayce Loutzenheiser Fortney and Alvin P. Fortney. He grew up in Canton and Cleveland, Ohio. After he graduated from West Technical High School in Cleveland, he attended The Ohio State University. While there, he learned about and enrolled in, the Civilian Pilot Training program (CPT). (He had wanted to fly since he was six years old.) His first flight was October 13, 1940 and he soloed two weeks later. He received his Private Pilot License in January 1941. He withdrew from the university and enrolled in the U S Army Air Corps as an Aviation Cadet in October 1941. His first military flight was November 10, 1941 and he soloed eight days later. He graduated and was commissioned May 20, 1942 - three days before his 21st birthday. During his career he flew over 50 different types of aircraft from a Culver Cadet to the B-52 and amassed over 7,000 flight hours. He was active in World War II, Korea, Vietnam and saw combat in Korea and Vietnam. He served overseas in Guam (twice), Korea and England. He spent half of his 30-year AF career as a member of the Strategic Air Command. During a tour at 2nd Air Force headquarters 1961-65, he served as Chief of the Control Division for 2nd Air Force. During that period, several significant events took place. The Cuban Missile Crisis, the launch of 24-hour airborne alert, President Kennedy's assassination, the launch of the first airplanes (B-52's) to Guam for attacks on North Vietnam. His final assignment was as Base Commander at the Blytheville (renamed Eaker AFB in 1988) Air Force Base, Ark., where he retired June 30, 1971. He was awarded the Legion of Merit (twice), the Distinguished Flying Cross, the Air Medal (three times), the Air Force Commendation Medal (three times) and numerous campaign and theater ribbons.
He and his wife Marian were very fond of Arkansas and moved to North Little Rock after he retired. He worked for the Arkansas Revenue Division, mainly as the Manager of the Income Tax Section, State Revenue Division from which he retired in 1986.
He and his family loved to travel. While stationed on Guam in 1966-68 they traveled extensively throughout the Far East. (Japan, Taiwan, Hong Kong, Thailand, Okinawa and the Philippines). When they returned to the States from Guam, they continued traveling west and completed a trip around the world. He visited over 52 different countries. Besides traveling, Bob loved water skiing and continued to ski into his late 60's. He had a great love for cars, enjoyed fine food and was a great cook and beverage connoisseur.
He was also noted as an ice cream aficionado. He normally had 15 different flavors of premium ice cream in his freezer, available at any time. He loved music and had a wonderful bass voice. After he passed 70 years of age, his naturally coal black hair was a constant item of wonder to many. It remained so until his death.\A great supporter of the Arts, Bob was also active in community affairs. He served on the Boards of the Community Concerts of Little Rock, local chapters of the Air Force Association, and the Retired Officers Association, the Senior Citizens Committee of North Little Rock, (four years as Chairman) and the LRAF Base Community Council. He was a life member of the Order of Daedalians, Distinguished Flying Cross Society, the Air Force Association and the Aerospace Education Foundation. He was also a Life Member of the Little Rock Bodies of the Scottish Rite, 32o KCCH. He was a Quiet Birdman.
Bob was invited to become a Rotarian in 1977 and he maintained perfect attendance for 42 years. He served as President of the Rotary Club of North Little Rock in 1983-84 and became Governor of District 6150 in 1988-89. During his time, he served in many capacities at all levels of Rotary International. He was a Paul Harris Fellow, a member of the Paul Harris Society, a Major Donor to both the Rotary Foundation and the Rotary Bequest Society. A lifelong Methodist, Bob became a member of Lakewood United Methodist Church in North Little Rock in 1971. He was a member of the George Martin Sunday School Class. He had served in most every leadership role in the Church.
He was predeceased by his parents and his wife of 60 years, Marian Funne Fortney, and survived by his two much loved children, Lynn (Scott Plutchak) Fortney of Birmingham, Ala. and Rob (Kara) Fortney of Savannah, Ga., seven grandchildren, and two great-grandchildren. He is also survived by his second wife of ten years, Dorothy Clement Fortney and three step-sons: Scott (Debbie) Clement of Little Rock, David (Libby) Clement of Atlanta, Ga., and Vance (Sherrill) Clement of Fayetteville, Ark., and five step-grandchildren.
Visitation will be from 5 to 7 pm on Friday, December 13 at the Lakewood United Methodist Church, 1922 Topf Road, North Little Rock, Ark. A memorial service will be held at Lakewood United Methodist Church, on Saturday, December 14 at 11 a.m. The interment of his ashes with military honors will follow at the Lakewood United Methodist Church Columbarium Garden, with a reception at the church immediately afterward.
Memorials may be made to Lakewood United Methodist Church, 1922 Topf Road, North Little Rock, Ark. 72116 or to The Rotary Foundation, One Rotary Center, 1560 Sherman Avenue, Evanston, IL 60201-3698, or a charity of your choice. Arrangements by Smith-North Little Rock Funeral Home; online guestbook at www.SmithFamilyCares.com.
Published December 11, 2019
OBITUARY SUBMITTED BY:
North Little Rock Funeral Home
1921 Main St, North Little Rock, AR
E-mail: mail@nlrfh.com
Phone: 501-758-1170