Elizabeth Ann Lancaster
Sheridan, AR, 1922 - 2019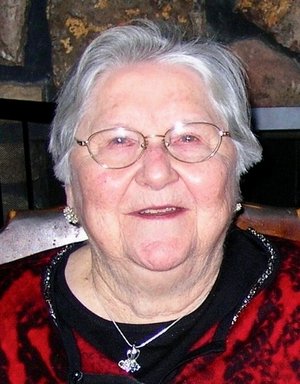 Elizabeth Ann Holmes Lancaster, 96, of Sheridan, Arkansas passed away peacefully December 20 at home surrounded by the love of her family. She was born to the late Bessie Fuller and Sidney Reese Holmes Dec. 28, 1922, in Eagle Mills, Ark. Elizabeth Ann graduated from Princeton High School and received a bachelor's degree in Home Economics from Arkansas State Teachers College (now University of Central Arkansas) and a master's degree from the University of Arkansas, Fayetteville.
She taught English and home economics in the Sheridan School District for 33 years. The subjects she taught to generations of students ranged from when to use a semicolon and conjugating verbs; to cooking and sewing; to housing, nutrition and child development. Elizabeth Ann valued education and the development of children into good adults. She believed strongly that all children, girls and boys alike, deserved the right to pursue happiness and achieve as much success as their abilities allowed.
Elizabeth Ann and her husband, Leon, along with Don and Sally Hawkins, owned Sheridan Lumber & Supply Company for 26 years. They purchased the store from Oliver Williams and Reed Scales, Elizabeth Ann's uncle.
She was an active member of Sheridan First United Methodist Church where she taught Sunday School and served as president of the United Methodist Women. Elizabeth Ann loved and served her church family, and that love has been repaid tenfold by countless visits, gifts of food and prayers.
She is survived by her husband of 64 years, Leon Lancaster, and her three children, Virginia of Sheridan, Steve (Betsy) of Little Rock, and Rebecca (Scott) Hancock of Vestal, N.Y. She is also survived by her beloved grandchildren, Reese Lancaster of Little Rock, Anna Hancock of Sheridan, and Kate Hancock of Pittsburgh, Pa. She was predeceased by her two brothers, Sidney and Gerald Holmes.
Elizabeth Ann was a loving wife and mother and supported her husband and children in all of their interests. She was an avid reader and loved her crossword puzzles. She was a fantastic cook and spent summers canning and preserving all of the bounty from Leon's gardens. Elizabeth Ann and Leon also cared for her mother and two aunts in their home until their passing. Her gentle, steady manner and loving support will be missed. Though gentle in her manner, there was steel in her belief in the value of all people, and she lived the aspiration that we should love one another and treat others as you would be treated.
The family would like to thank Angela Gregory, Elizabeth Ann's caregiver for more than a year, for her dedication and compassionate care and love for Elizabeth Ann. Thanks also go to Rheta Lemons for her hours of providing nightly care for Elizabeth Ann, and the staff of Arkansas Hospice, especially Marilyn Brown, who cared for Elizabeth Ann in her final days.
Funeral services will be held on December 27 at 1:00 p.m. at Sheridan First United Methodist Church. The family will receive friends at the church in the Grand Hall following the service. Burial will follow at Lost Creek Cemetery in Sheridan. The family asks that, in lieu of flowers, gifts be made to the Summer Feeding Program in care of Sheridan First United Methodist Church, PO Box 357, Sheridan, Ark. 72150.
Pallbearers are Joe Archer, Dr. John Robinette, Brent Reichenbach, Seth Glaze, John Orr and Sam Green. Arrangements by Memorial Gardens Funeral Home of Sheridan (870) 942-1306. www.memorialgardenssheridan.com.
Published December 24, 2019
OBITUARY SUBMITTED BY:
Memorial Gardens Funeral Home
2686 Hwy 167 North, P.O. Box 540, Sheridan, AR
Phone: 870-942-1306