Winifred Craig Penn
Heber Springs, AR, 1927 - 2019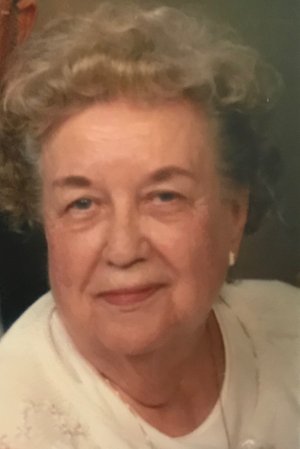 Winifred Craig Penn was born on September 13, 1927 in Holland, Arkansas. She was the daughter of the late William Thomas and Byrl Losey Craig. Winifred was the granddaughter of the late Hugh and Lillie Ann Parker Craig and the late Dr. James and Cora Ellen Morgan Losey (Odenbaugh). Winifred died on December 20, 2019 at the age of 92.
Winifred is survived by her husband of 66 years, Lavern Penn, of Heber Springs, Arkansas; their only child, Suzanne Penn, of Conway, Arkansas; and Winifred's only grandchild, Nicole Penn. Winifred was preceded in death by her only sibling, Annetta Craig Wilson. Winifred also is survived by her brother-in-law, Paul Wilson, of Dallas, Texas, her nephews and their wives and families, Lane and Maureen Wilson, of Tulsa, Oklahoma and Lyle and Toni Wilson, of Sunnyvale, Texas, and 17 cousins in the Craig family and two cousins in the Losey family.
Winifred graduated from Harrisburg High School in Harrisburg, Arkansas in 1945, and she attended college at Arkansas State in Jonesboro. Winifred loved to dance, and she especially loved to jitterbug. She loved Glenn Miller Big Band Music, Patsy Cline, and Eddie Arnold. She taught elementary school in Pocahontas, Lynn, and Clover Bend, Arkansas, and then after she married, she became a homemaker and mother. She and her husband lived in Bald Knob, Clover Bend, Walnut Ridge, Fayetteville, Rogers, Heber Springs, and Conway, Arkansas during their marriage. They enjoyed watching Razorback sports, visiting with family at reunions, participating in Craig Cousin retreats, and sharing special times with their treasured friends. They traveled throughout the United States with their daughter and granddaughter. Winifred loved to laugh and visit with her friends and family on the phone. She also enjoyed the company of Felicia Cox, who worked with Winifred and her husband through HomeInstead.
A memorial service will be held at 1 p.m. on Friday December 27, 2019 at the Roller McNutt Funeral Home Chapel in Conway, Arkansas with her daughter, Suzanne, giving the eulogy, and her granddaughter, Nicole, reading from scripture as well as prayers composed by Reverend Leslee Phillips, a longtime family friend and member of the Methodist Clergy. Visitation will precede the memorial service at 12 noon in the Roller McNutt Funeral Home.
In lieu of flowers, donations may be made to the Winifred Craig Penn Memorial Fund GoFundMe page with donations being forwarded to the Clover Bend Historical Preservation Association which is a museum in Clover Bend, Arkansas whose purpose is to preserve the history of the Clover Bend School where Winifred, her parents, and her husband taught in the early 1950s. Winifred's father was superintendent there as well. Please see the link below.
Winifred Craig Penn Memorial Fund GoFundMe Page link: https://www.gofundme.com/f/winifred-craig-penn-memorial-fund?utm_source=customer&utm_medium=copy_link&utm_campaign=p_cf+share-flow-1.
Published December 24, 2019
OBITUARY SUBMITTED BY:
Roller-McNutt Funeral Home
801 8th Avenue, P.O. Box 249, Conway, AR
Phone: 501-327-7727
http://www.rollerfuneralhomes.com