Earl George Ballard
Hot Springs Village, AR, 1937 - 2019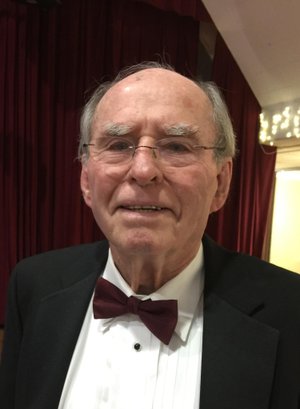 Captain Earl Ballard slipped the surly bounds of earth on February 10, 2019. He passed away at the age of 81 at Good Sam's after a brief and courageous battle with brain cancer. His life began on 9-19-37 in Kerrville, Texas, but included many stops along the way because his step-dad was a military man. His education includes Frankfurt High School in Germany, graduation at Austin High School in El Paso, Stephenville Junior College, and finally Texas A&M. Earl's flying career started with the United States Air Force learning to fly in the Air Force Cadet class of G61, then flying missions to Turkey, France, and Bangkok. His career ended after 32 years of flying and line check training with Delta Air Lines where he retired as an "International Pilot". Earl always said he wanted to fly the biggest planes made!! Even after moving to Hot Springs Village in 2000, he continued to meet monthly with his Delta flying buddies for lunch.
Earl was preceded in death by his parents, Floyd Barnhart and Martha Ann Hamilton Ballard and his stepfather E.H. Ballard, his sister, Dixie Marie McClellan. He is survived by the "love of his life", Jeanne, with whom he just celebrated their 40th anniversary, a sister, Linda O'Connell, three children, Timothy, Matthew, and Mitchell, four grandchildren, one great grandchild, many nieces and nephews.
Captain Earl loved to reminisce about all his days of flying and had a lot of stories about all the famous people that had been on his flights. He loved playing golf with his friends and his wife and they made many golfing trips. Earl spent a lot of his free time playing "freecell" on his computer, playing euchre with friends, and snuggling up in the recliner with his dog, Dexter. Earl also had a passion for the piano and he spent hours playing the oldies. Earl was a kind and gentle soul who will be sorely missed by his family and friends.
Visitation will be at 10:30 a.m. on Friday February 15 at Sacred Heart of Jesus Catholic Church in Hot Springs Village followed by The Mass of Christian Burial at 11 a.m. Interment will be at the Arkansas State Veterans cemetery in North Little Rock at 10 a.m. on Tuesday February 19. Pallbearers: Mitch Ballard, Matt Ballard, Rob Bowers, Clint Lunsford, Rex Brewer and Dan Quandt.
In lieu of flowers, the family requests that you make a donation to the Sacred Heart of Jesus Endowment with the Hot Springs Village Community Foundation, or to the American Cancer Society. Arrangements have been entrusted to CedarVale Funeral Home of Hot Springs Village, Ark.
Published February 12, 2019
OBITUARY SUBMITTED BY:
CedarVale Funeral Home
200 Minorca Rd, Hot Springs Village, AR
Phone: 501-922-6100