Carol Helen Lane
Hot Springs, AR, 1950 - 2019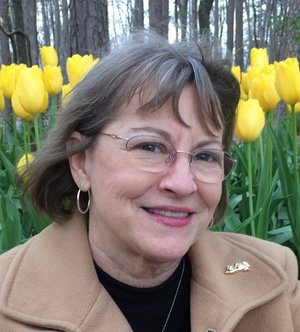 Carol Lane, 68, of Hot Springs was welcomed home February 22, 2019. Carol was born in Houston, Texas to Randolph and Jane Quick in the late summer of 1950. The family moved to Arkadelphia where Carol was a cheerleader and graduated from Arkadelphia High in 1968.
After high school, Carol attended Baylor University. While at Baylor, she was a member of Kappa Theta and Seventh and James Church, earned her Bachelor's in Social Work in 1972 and her Masters in Sociology in 1974. She began her career as a researcher at the graduate school of Social Work at UALR.
Carol and Chuck had been acquaintances while both Baylor students. However, it took a mutual friend and some long-distance matchmaking to set them up on a date. An evening walk throwing Frisbee and smelling honeysuckle was all it took. Carol and Chuck married in 1976. They were blessed with Charley and Catie a few years later.
A house fire in 1987 prompted Carol to discover new talents. Her family needed a home and Carol, having neither training nor experience, took it upon herself to design and contract the entire project. This remains the family home.
The home project came just as she was diagnosed with fibromyalgia. This disorder would cause her pain the remainder of her life. You'd never know it though! She always had a smile on her face while working tirelessly to serve others. She continued to be a resource to those in need, a comfort to those in pain, a teacher to those on the journey and an asset in the hands of her God.
Carol served her Lord in so many ways—teaching youth for over 15 years, lending her sweet voice to the choir, serving as discussion leader or substitute teacher in Bible Study Fellowship for 19 years, teaching in her Connect Group at First Baptist Church, and recently providing relentless encouragement to people diagnosed with Parkinson's Disease through Rock Steady Boxing. She never, never, never gave up!
Carol will be welcomed to Heaven by her father, Randolph Quick and her sister, Connie Quick. She is survived by her mother, Jane Quick; husband, Chuck Lane; children, Charley Lane and Catie Curtis; son in law, Ryan Curtis; grandsons, Joshua, Nathan and Timothy; and her church family at First Baptist Church in Hot Springs.
A visitation at First Baptist Church on Wednesday, February 27 will be held from at noon to 1 p.m. with a funeral service beginning at 1 p.m. Bro. John McCallum will officiate. Online guestbook and tributes available at www.GrossFuneralHome.com.
In lieu of flowers, memorials in Carol's name may be made to Rock Steady Boxing care of First Baptist Church, 2350 Central Ave., Hot Springs, Arkansas 71901 or to Family Farm, 18448 Hwy. 67, Malvern, Arkansas 72104.
Published February 26, 2019