Jo Lavern Chitwood Smith
of North Little Rock, AR, 1926 - 2018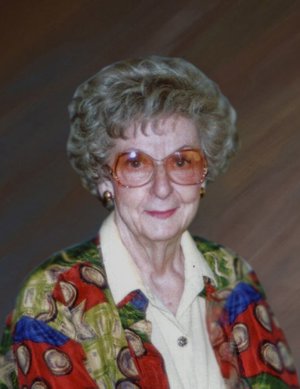 JO LAVERN CHITWOOD SMITH, 92, of North Little Rock died Saturday, Dec. 29, 2018, in Little Rock.
Born June 7, 1926, in Little Rock to the late Johnie and Marion Chitwood, she spent her early years in Little Rock, Hot Springs, and Buckville, a small rural community located on land now deep beneath Lake Ouachita. Jo graduated from Little Rock Central High School in 1944.
Jo loved music and became quite a singer and pianist. When she met Fred Wesley Smith in 1943, she fell in love with his beautiful singing voice and married him on Christmas Eve, 1944. A pianist friend played for the wedding service and later confessed she searched and searched for an up tempo tune to play for the recessional. Although apparently the pianist didn't know the words to the tune she chose, the congregation did and laughter ensued as the couple marched from the church to the strains of "The Fight is On." That remains a favorite family story. But lovely duets filled the Smith home for many years, and two sons completed the family: Fred Vernon and Ronald Joe.
As a member of Baring Cross Baptist Church, Jo enjoyed playing the piano (by shaped notes only!), singing, and teaching children's Sunday School classes. Felt boards made by fellow KARK employees brought those lessons to life. She also loved to read and was an accomplished seamstress.
Following her employment at KARK television station, Jo worked many years at Little Rock Water Works and retired at the age of seventy-five, saying the constant activity helped ease her arthritis pain.
Jo was preceded in death by her parents, husband, and sons.
Survivors include two granddaughters, Amanda Lingo (Greg) of Lonoke and Andrea Harrod of North Little Rock; three great-grandsons, Keith, Grant, and Gunter Lingo; three sisters, Ida Lewis, Sue Chambers, and Janelle Curry, all of North Little Rock; and many nieces and nephews.
A memorial service will be held at 10 a.m. Friday, Jan. 4, 2019, at Roller-Owens Funeral Home, 5509 JFK Blvd., North Little Rock, Ark. Burial will follow at 2 p.m. at Oak Grove Cemetery in Sunshine, Ark.
You may sign the online guestbook at www.rollerfuneralhomes.com/owens.
Published January 2, 2019
OBITUARY SUBMITTED BY:
Roller-Owens
5509 JFK Blvd., North Little Rock, AR
E-mail: owens@rollerfuneralhomes.com
Phone: 501-791-7400