Clinton Alan Jones
Paden, OK, 1978 - 2018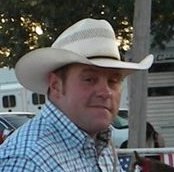 Clinton "Clint" Alan Jones, age 40, was born in Fayetteville, Arkansas on December 11, 1978 and departed this life in Shawnee, OK on December 30, 2018.
Clint was the son of Curtis "Alan" and Laura Sue (Posey) Jones. Clint grew up in Northwest Arkansas, graduating from Siloam Springs High School. He and his wife, Sara, made their home in Paden, Oklahoma, and have two children together. Clint was a loving husband and father and enjoyed watching his children grow up.
Clint loved being outside. Clint was an avid calf roper, team roper and hunter. He and his family hosted a turkey hunt where they were honored to be involved with the Foundation for Exceptional Warriors. Clint had a great impact on many and will be missed.
Clint is survived by his loving wife, Sara, his daughter, Lilly, and his son, Cashton of the home. He is also survived by his father, Alan Jones and wife Brenda Jones of Farmington, Arkansas; his mother, Laura Jones of Paden; his brother, Curt Jones of Paden and his father-in-law and mother-in-law, Mark & Christy Spears of Cincinnati, Arkansas.
Clint's family has asked that in lieu of flowers, donations be made to the Foundation for Exceptional Warriors. Donations can be made at www.exceptionalwarriors.org. A fund has also been set up for Clint's children at BancFirst.
Published January 5, 2019